949-877-1999
Encountering a serious accident or violent crime is emotionally distressing and dangerous. You should know how to behave in such a situation for your own health and safety. Trauma and crime scenes typically contain blood, bodily fluids, and other biohazardous materials, and these materials can spread infection and disease if not handled carefully.
ServiceMaster EMT provides trauma and crime scene cleanup services for homes and businesses in Santa Fe Springs, CA, with biohazardous materials on the property. Our professionals are trained to properly remove mold, bodily fluids, blood, sewage, and other biohazard materials from crime and trauma scenes.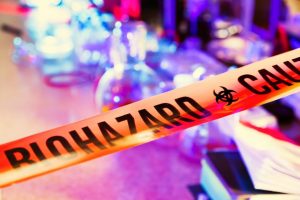 Biohazard Cleanup Santa Fe Springs, CA
Our professionals at ServiceMaster EMT are all trained and certified to clean and remove biohazard materials like mold, blood, bodily fluids, tissue, chemicals, sewage, and more. We follow all OSHA and state health regulations during our cleanup services.
Our technicians wear personal protective equipment (PPE) to keep them safe from biohazardous materials that contain hazardous toxins and bacteria. It is essential that only certified professionals clean biohazard and trauma scenes because they are trained to safely handle biohazard materials to avoid spreading disease and infection.
Our biohazard and trauma scene cleaning professionals will clean:
Violent crime scenes
Homicides/suicides
Serious injury
Unattended death scenes
Sewage backups
Chemicals and paint
Mold and mildew
Trauma Cleanup
If a violent crime or serious accident occurs on your property, it's important that you act right away. If you encounter a crime that results in serious injury or death, leave the area and call law enforcement. Next, contact ServiceMaster EMT so our professionals can respectfully clean and restore the trauma scene.
Our technicians are trained to comply with law enforcement during a crime scene cleanup, so our services do not interrupt the investigation. We also understand that this is a difficult situation for you, so our compassionate technicians always work quickly and discreetly.
Our trauma and crime scene cleaning services include:
Compassionate, respectful, trained technicians
Thorough disinfection, cleaning, and removal process for biohazard material
Safe biohazardous material disposal at a licensed offsite facility
Cooperation with local, state, and federal safety standards and regulations
Be careful if you encounter a crime or trauma scene with biohazard materials. These materials are unsafe to handle because without proper precautions, they can easily spread infection and disease. Contact ServiceMaster EMT for our biohazard and trauma scene cleanup services in the Santa Fe Springs, CA, area.
Our trained technicians have the proper equipment to efficiently and effectively clean and restore crime and trauma scenes. We are always respectful and compassionate while working because we understand the sensitivity of the situation.
Contact Us
Call ServiceMaster EMT at (949) 877-1999 for our 24/7 biohazard and trauma scene cleanup services in Santa Fe Springs, CA.
---
Related Biohazard and Trauma Scene Cleaning Services:
Biohazard Cleanup Huntington Beach, CA
Crime Scene Cleaning Services Lake Forest, CA
Biohazard Cleanup Anaheim, CA
Crime Scene Cleaners Los Angeles, CA
Biohazard Cleanup San Diego, CA
Biohazard Cleanup Ontario, CA
More Reviews