While some natural disasters are not as destructive, others can leave building structures in serious conditions. If it looks to be unstable, not only is there a higher chance for additional damage to occur, it may face the risk of collapse. Regardless if this was caused by a flood, fire, or storm, the structure's condition must be secured.
ServiceMaster EMT provides 24/7 board up and tarping services in the Lake Forest, CA area to fully secure the conditions of homes and buildings until they are ready to be restored. If it isn't done in a timely manner, the risk for additional damage to occur is greater, such as from vandalism or animal infestations.
Board Up Services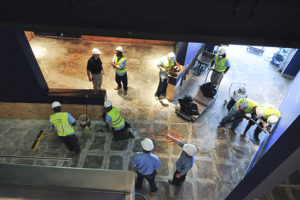 It's common for major structural damage to occur after a flood, fire, storm, or other disaster, but it's imperative for the damage to be restored as soon as possible. Large holes and openings in the roof, siding, or windows can leave the property open to vandalism, theft, water damage, and/or animal infestations. This is why it's important to have the property secured as soon as possible.
Our professionals at ServiceMaster EMT are available 24/7 and properly trained to arrive right away and board up the property. We also have the equipment and resources to restore the structure to its original condition, saving you the headache of working with multiple companies.
All of the following are included in our board up and tarping services:
Closing up holes and gaps on the property
Temporary stabilization
Setting up necessary barricades
Tarping over damaged roofing materials
If a natural disaster, such as a flood, fire, or storm has left your property in an unsafe condition, don't hesitate to react immediately and call ServiceMaster EMT to have it secured.
Available 24/7
ServiceMaster EMT is available 24/7 at (888) 767-9075 to provide emergency board up and tarping services in Lake Forest, CA and the surrounding areas.
---
Related Board Up Services:
Board Ups in Los Angeles, CA
Board Up Services in Anaheim, CA
Board Up Company in Huntington Beach, CA
November 22, 2019
Your guys dud a great job shoring up our brick wall. I never expected someone to drive through it and almost wind up in my pool so it was an emergency situation as I live on a very busy street and can't have an unsecured pool. So even though they had to come at 7:30 pm to do this work they did even cleaned up some of the bricks that were very close to the edge of the pool.
More Reviews