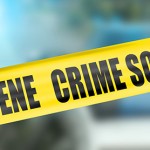 Homicides are an ugly aspect of our society that occur on a daily basis and when a homicide is committed, it becomes the responsibility of the property owners to clean up and restore the scene.  Most of the time, those responsible for the cleanup are the friends or family members of the victim which makes the whole experience especially difficult.  ServiceMaster Restoration by Complete provides homicide cleanup in New York, NY to safely clean and restore the scene of a homicide.  Our technicians can safely remove biohazard materials including blood and bodily fluids from the scene and we also treat our clients with compassion and respect to help ease some of the burden.
Restoring the scene of a homicide requires a different approach than restoring the scene of an accident or natural death because a crime has been committed.  Our technicians at ServiceMaster Restoration by Complete are trained and experienced to cooperate with law enforcement officials as they carry out the investigation to prevent cross-contamination, mishandling of evidence, and anything else that could be detrimental to the investigation.  We will completely remove all biohazard materials from the scene using the best cleaning products and protective equipment available as well as disinfect and restore the scene to eliminate the risk of infection or disease.
The following steps are included in our homicide cleaning services:
Decontamination: We completely remove all biohazard materials such as blood and bodily fluids as well as fingerprint dust and decontaminate the entire scene.
Deodorization: We use powerful deodorizers to remove any lingering odors.
Proper Disposal: We properly transport biohazard materials to a licensed medical waste facility for safe disposal.
Continuous Monitoring: We do the job quickly and efficiently with good quality control and open communication.
Insurance Assistance: We can help coordinate insurance claims with your provider.
Family Assistance and Support: If the family members or friends of the victim need extra support to help them cope with the tragedy, we can put them in touch with counseling professionals.
Certified Technicians: Each of our technicians have been specially trained and certified to clean up biohazard materials while following local, state, and federal laws.
Final Walk Through and Approval: When the job is finished, we walk through the area with the client to ensure the cleaning meets their approval.
Homicide Cleaning Costs
The cost for homicide cleaning services largely depends on the amount of biohazard materials present as well as the amount of damage to the surrounding area.  It is ultimately up to the owners of the property to pay the cost of homicide cleaning which includes the cost for transporting and disposing of biohazard materials.  Our technicians may need to remove certain things such as flooring, furnishings, and air ducts to clean more effectively and we will try to salvage as much of your property as possible.
If you encounter a homicide scene on your property in New York, NY or the surrounding areas, do not hesitate to call law enforcement and ServiceMaster Restoration by Complete for homicide cleaning services.  You can reach us 24 hours a day at (347) 380-8388 for emergency response.
---
Recent Reviews
Review by

Shayon M.
for
Disaster Restoration
Rating

"The project manager and his team were very efficient and knowledgeable. Quick turnaround on all the issues we had at home."
---
Review by

Daniel C.
for
Disaster Restoration
Rating

"Work was excellent. Your people are very hardworking and conscience. I am very satisfied and would certainly recommend service master to friend and neighbors"
---
Review by

Valarie B.
for
Disaster Restoration
Rating

"All who worked did a great job, but there was a lack of communication between the various parties (insurance companies, condo association) about what work needed to be done to address the situation. The carpet was never removed. I'm not sure why."
---
ServiceMaster Restoration by Complete Reviews
Review us on Google