(347) 380-8388
When a natural disaster strikes your home, it can impact any item, feature and structure. It's crucial that the damage be cleaned and the place restored to its former condition without delay. Elements such as fire, smoke and water can cause widespread damage to your belongings. Without timely restoration, some of these items may sustain permanent damage, which makes it important for you to take quick action. ServiceMaster Restoration by Complete provides efficient content cleaning and pack-out services in New York, NY. We will clean and restore all your belongings that have suffered damage from a natural disaster.
Content Cleaning and Restoration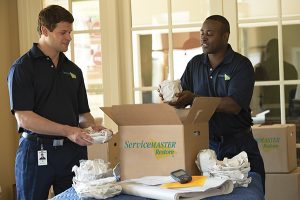 If your home gets impacted by a natural disaster, it can become very difficult to stop the damage from spreading to different belongings in your home. In the immediate aftermath of a disaster, it's important that you inspect all the items in your home and assess the amount of damage they have suffered. The ones that have suffered a lot of damage should be set aside for restoration and cleaning.
Our technicians are skilled at cleaning, restoring, and deodorizing all your belongings in an expert manner. In fact, we will also work very closely with your insurance provider, so the claim filing process becomes simpler for you. We can effectively clean items on site. However, if your house has been damaged severely and the content cleaning can't be done on site, we will pack out the content and take it to our facility.
We ensure that each item is carefully packed and added to the inventory list; this list will be shared with you as well as your insurance company. At our facility, every piece of content will be cleaned and restored meticulously and will then be stored in our safe and secure climate-controlled facility. Once your home has been fully restored and you are ready to take back all your belongings, we will transport them to your doorstep.
24/7 Content Cleaning and Pack-Out Services
We know exactly how much disruption a natural disaster can cause. It can be overwhelming to deal with the situation and if your belongings have been badly affected, that only makes the situation worse. We work quickly, efficiently, and professionally to handle all your belongings with care and ensure that they are cleaned and restored in the best possible way.
For the best and most reliable content cleaning and pack-out services in New York, NY, call ServiceMaster Restoration by Complete at (347) 380-8388, anytime 24 hours a day.
---
Recent Reviews
Review by

Shayon M.
for
Disaster Restoration
Rating

"The project manager and his team were very efficient and knowledgeable. Quick turnaround on all the issues we had at home."
---
Review by

Daniel C.
for
Disaster Restoration
Rating

"Work was excellent. Your people are very hardworking and conscience. I am very satisfied and would certainly recommend service master to friend and neighbors"
---
Review by

Valarie B.
for
Disaster Restoration
Rating

"All who worked did a great job, but there was a lack of communication between the various parties (insurance companies, condo association) about what work needed to be done to address the situation. The carpet was never removed. I'm not sure why."
---
ServiceMaster Restoration by Complete Reviews
Review us on Google