ServiceMaster Restoration by Complete
Hoarding is a mental disorder that can have devastating consequences for the affected individuals and their families. The most common behavior associated with hoarding is caused by anxiety as those affected lose the ability to throw away hoarded objects that have accumulated in their home. As more objects come into the home, the clutter grows, increasing the risk of injury, fire hazards, and mold or bacteria growth. Ultimately, cleaning the home is important for protecting the health and safety of the affected individual and their family. ServiceMaster Restoration by Complete provides hoarding cleaning services in New York, NY to help clear the homes of hoarders and restore safe living conditions. Our approach to hoarding cases involves building a personal connection with the affected individual and involving them in the planning and cleaning process.
Dangerous Conditions Associated with Hoarding
Many hoarders do not seek help on their own, either because of their anxiety or they do not view their behavior as a problem. This is why it is important for you to intervene if you have a close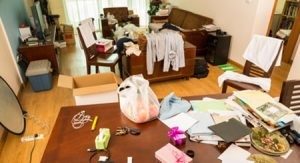 friend or family member with hoarding issues. You must take a delicate and compassionate approach to help the individual realize that the living conditions in the home are a threat to their health and safety. Those who hoard will keep anything in their homes and eventually the hoarded objects will become piled high. This level of clutter makes walking through the home dangerous and also increases the risk of a fire. Unsanitary conditions are common in the homes of hoarders because the clutter creates the right environment for mold or bacteria growth.
ServiceMaster Restoration by Complete is equipped to thoroughly clean and sanitize homes affected by hoarding to restore safe living conditions. Our technicians will remove unwanted objects and we will safely clean up biohazard materials such as bacteria, mold, and feces.
The following steps are included with our hoarding cleaning services:
Valuable items and important personal belongings are saved
Unwanted hoarded items are removed from the home
We will dispose of, recycle, or donate unwanted items
Certain items can be delivered to friends and family members
We help with paperwork from trusts, attorneys, and government agencies
3-Phase Cleaning Approach
Hoarding cleaning requires a delicate approach because this situation can be difficult for the individual to handle. It is important for the individual to maintain some control of the situation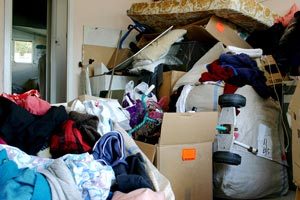 and understand that they are respected and valued by those who are helping with the cleaning. Our technicians establish a sense of respect with the individual before starting any cleaning, ensuring that they have the final say on what to do with the hoarded items. This hoarding cleaning approach is broken down into three phases:
Phase 1: Establishing Trust
We will assess the situation before entering the home.
Our technicians work to earn the respect of the individual and discuss cleaning options with them and their family. If needed, we will involve a professional counselor.
We will move to the next step if the affected individual is willing to proceed.
Phase 2: Creating a Cleaning Plan
We sit down with the individual and their family to form a cleaning plan that focuses on improving the conditions of the home.
Our technicians will remove hoarded items and help clean and rearrange what is left.
The individual makes the final decision on whether to keep or get rid of each hoarded item in the home.
Phase 3: Follow Up
We help create a maintenance plan for the individual to keep their home in good condition.
We follow up with a phone call to see if the maintenance plan is being followed. Our technicians will return if further cleaning services are needed.
Hoarding is a serious situation because the condition of the home will become more dangerous until the home is cleared out. You must reach out to someone you know who struggles with hoarding to help them start the cleaning process and return their home to safer conditions. The technicians of ServiceMaster Restoration by Complete can effectively clean the homes of hoarders in the New York, NY area. Give us a call at (347)380-8388 for more information about our hoarding cleaning services.
---
Recent Reviews
Review by

Shayon M.
for
Disaster Restoration
Rating

"The project manager and his team were very efficient and knowledgeable. Quick turnaround on all the issues we had at home."
---
Review by

Daniel C.
for
Disaster Restoration
Rating

"Work was excellent. Your people are very hardworking and conscience. I am very satisfied and would certainly recommend service master to friend and neighbors"
---
Review by

Valarie B.
for
Disaster Restoration
Rating

"All who worked did a great job, but there was a lack of communication between the various parties (insurance companies, condo association) about what work needed to be done to address the situation. The carpet was never removed. I'm not sure why."
---
ServiceMaster Restoration by Complete Reviews
Review us on Google