Water Damage Related Info
Any excess moisture or water in your home or building can become quite a major problem because the drywall and wooden features on your property absorb the water very quickly. This can result in mold & mildew growth and if the problem is left unaddressed for a long time, it may also result in structural damage.
Natural conditions such as rain, humidity and flooding and internal factors such as burst or leaking pipes can potentially result in water damage on your property. ServiceMaster Restoration by Complete is a front-running company in this industry. We provide excellent residential and commercial water damage restoration in New York, NY. Not only will we remove all the excess water from the affected spaces on your property, but we will also clean and efficiently restore any resulting damage.
We are quick with our response times and our technicians will arrive at your location within 1 to 2 hours of your call. They work quickly and efficiently and stop the spread of the water to prevent secondary damage.
Flood Damage Restoration in New York, NY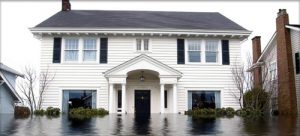 What makes water damage a big problem is that it spreads quickly through porous installations on your property such as insulation, drywall, wood and other similar building materials.
Our technicians use the latest cleaning products and state-of-the-art drying equipment to restore your furnishings and building. They work efficiently, and the water damage restoration can typically be completed within 3 to 5 days. The steps we follow in this work are:
Emergency Response– In situations such as these, time is of the essence and we respond promptly to stop the water from spreading. We conduct a detailed assessment of the damage to identify which flood damage restoration method would work best.
Water Extraction & Drying– Our technicians will set up drying equipment such as air movers and dehumidifiers to extract the water. They will also monitor how the drying is progressing, every single day.
Reinstallation and Cleaning– If any features or items have been moved while the remediation was in progress, our technicians will reposition them. They will also clean and thoroughly disinfect all the affected spaces.
If you have noticed any kind of water damage in your home or commercial building, call us without delay.
The Dos
While you wait for our technicians to arrive, here are some things you can do to stop the spread of the damage:
Attempt to remove as much water as you can, by blot-drying and mopping
Remove all the floor coverings and non-permanent rugs
Slide the bottoms of all the drapery through coat hangers and then put these on the rods; this will help keep the drapes out of the water on the floor
Wipe the wet furniture and place aluminum foil below the furniture legs- this prevents the carpet from getting stained
Keep all vulnerable items like paintings and photos in any safe and dry spot
All the water-damaged books should be packed together tightly- this keeps the pages from getting warped until our technicians dry them using a specialized process
Open all the cabinet doors, drawers and internal doors as this speeds-up the drying process
The Don'ts
Don't walk into the spaces with standing water till you have turned-off the electricity
Don't use a regular vacuum cleaner to remove the water
Don't attempt to remove the permanent flooring/carpeting
Don't use any of the electrical appliances while you are standing on wet flooring
Don't attempt to clean-up any of the mildew or mold
We understand that there are times when water damage becomes an emergency situation. It's why we provide 24/7 services. In case you notice any severe water damage on your property, don't hesitate to call for our flood damage restoration services in New York, NY. You can reach us anytime at (347) 380-8388.
---
Recent Reviews
Review by

Shayon M.
for
Disaster Restoration
Rating

"The project manager and his team were very efficient and knowledgeable. Quick turnaround on all the issues we had at home."
---
Review by

Daniel C.
for
Disaster Restoration
Rating

"Work was excellent. Your people are very hardworking and conscience. I am very satisfied and would certainly recommend service master to friend and neighbors"
---
Review by

Valarie B.
for
Disaster Restoration
Rating

"All who worked did a great job, but there was a lack of communication between the various parties (insurance companies, condo association) about what work needed to be done to address the situation. The carpet was never removed. I'm not sure why."
---
ServiceMaster Restoration by Complete Reviews
Review us on Google