ServiceMaster Restoration by Complete
Water Damage Related Info
ServiceMaster Restoration by Complete is honored that you have chosen us as your emergency water damage restoration provider. As we are proud of our reputation of having quality service and experienced technicians, we always treat each situation as an emergency. While this may be your first major loss, our water cleanup specialists have been restoring water damage for the past 16 years. We restore both residential and commercial properties of all sizes while taking each job seriously; ultimately, we are dedicated in restoring the peace of mind of both home and business owners. In regards to this, you can find a list of processes which may or may not be required for your property in order to restore a safe environment. Finally, we have provided a brief description of the service to give you a better understanding of what may be needed.
While your property may not need all of the services listed below, we hope that it will provide further understanding of what and why a particular service is needed. If you need further explanation, please do not hesitate to ask your flood cleanup technician as they are trained and experienced to handle all questions. You can also refer to our water cleanup FAQ page to answer any general questions regarding our procedures.
Limiting the Spread of Water Damage, Identifying the Source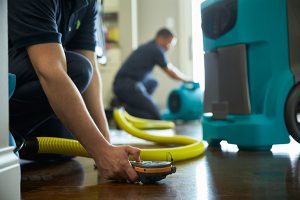 As soon as your technician arrives, they will identify all affected areas and immediately prevent the damage from spreading (you can also check out our page about learning prevent water damage to avoid another major loss in the future). After all damaged areas have been found, your technician will locate the source of the damage, if it is hidden, using a combination of the following: probes, sensors, and moisture-detection meters. They will then develop a unique plan that will guarantee the best way to restore the damage as quickly as possible. However, if an insurance claim was filed, please keep in mind that ServiceMaster Restoration by Complete is not able to begin any work until photographic evidence has been taken by your claims agent.
√ Examine the HVAC system. Due to the fact that the ducts are hidden, it is difficult to determine if they have been damaged. They will be thoroughly inspected for any water seepage by our specialist.
√ Inspect the basement. The basement is one of the most common places for water damage to occur; it may contain leaks or even harbor mold growth.
√ Inspect the attic. Any stored contents, framing, and wet insulation will be inspected, restored, or replaced, if damaged.
√ Inspect the crawlspace. Known for storing belongings, it is also known for storing water damage and even mold growth. The framing and insulation will also be inspected for possible damage.
√ Securing household content. While the building materials will sustain the majority of the damage, it is possible that your belongings have been affected as well. If they have been damaged, ServiceMaster  Restoration by Complete will clean them properly or transport them to our facility for proper restoration, if necessary; this is done through our pack-out services.
√ Water extraction. While this is the biggest step in water damage restoration, it will also prevent the damage from spreading and accelerate the dehumidification process. Our technicians will then use specialized drying equipment and products to restore all building materials. But please keep in mind that the restoration of the flooring layers may occur at separate times.
Carpet Inspection
√ Drying of carpet in place. As long as the carpet is not severely damaged, it can be left in place to dry.
√ Removing the carpet and threshold covering from tack strip. Opening of seams. If the carpet is significantly damaged, removing it will allow it to dry faster and avoid secondary damage.
√ Remove the carpet padding. In order to avoid additional damage, the padding may need to be removed. Microbial growth will be prevented while the drying process is made more efficient.
√ Remove unsalvageable carpet. If the carpet has sustained severe damage, it cannot be effectively restored. At this point, it is more cost-effective to order a replacement.
Examination of Other Flooring Materials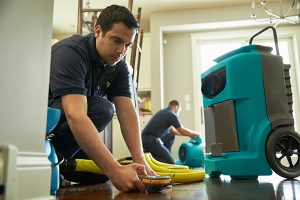 √ Vinyl. Dry in place or replace (It is not salvageable or it is more cost-effective to order a replacement).
√ Tile. Dry in place or replace (It is not salvageable or it is more cost-effective to order a replacement).
√ Subfloor. Dry in place or replace (It is not salvageable or it is more cost-effective to order a replacement).
Inspection of cabinets, ceilings, and walls
√ Drill holes in ceilings/sheetrock/walls for proper dehumidification/air ventilation. Drilling holes in these materials will prevent microbial growth as well as allow for proper ventilation.
√ Remove the drywall/sheetrock. Because it is a porous material, the drywall maybe unsalvageable due to the amount of water exposed. At this point, it would be more cost-efficient to order a replacement.
√ Examine cabinets. While the cabinets are not insulated, water may have leaked in; they will need to be thoroughly inspected that may require the removal of the toe kicks or drilling holes in the structure.
√ Removing doors from the hinges. To allow for better air circulation, the doors may need to be temporarily removed from their hinges.
√ Remove the baseboards. This will depend on the type of building material, but they may need to be replaced in order to eliminate the moisture between it and the wall.
√ Odor removal. While it is natural to smell odors within a drying structure, the technician can apply a specialized deodorizer to remove any unwanted smells.
√ Apply anti-microbials. In order to prevent the growth of bacteria and other unwanted micro-organisms, your water cleanup technician will apply an anti-microbial chemical.
√ Set up high-velocity air movers. To accelerate the drying process, ServiceMaster Restoration by Complete will install these machines to increase air circulation and moisture evaporation.
√ Set up dehumidifiers. Once the air movers have extracted the moisture from the building materials into the air, it will be evaporated by our dehumidification equipment. This will prevent damage to the ceiling and walls.
√ Explanation of additional appointments as needed. In addition to explaining the follow up steps, the next appointment will be scheduled. This will include: re-positioning the equipment, monitoring the moisture and temperature levels, and inspecting the drying areas. As all situations are different, the drying times of each property will vary; however, you can check out our page on the drying process to find out what exactly is involved during this process.
√ Other.
---
Recent Reviews
Review by

Shayon M.
for
Disaster Restoration
Rating

"The project manager and his team were very efficient and knowledgeable. Quick turnaround on all the issues we had at home."
---
Review by

Daniel C.
for
Disaster Restoration
Rating

"Work was excellent. Your people are very hardworking and conscience. I am very satisfied and would certainly recommend service master to friend and neighbors"
---
Review by

Valarie B.
for
Disaster Restoration
Rating

"All who worked did a great job, but there was a lack of communication between the various parties (insurance companies, condo association) about what work needed to be done to address the situation. The carpet was never removed. I'm not sure why."
---
ServiceMaster Restoration by Complete Reviews
Review us on Google