ServiceMaster Restoration by Complete
How will I know when everything is dry?
We have been able to perfect our water damage cleanup procedures over time, allowing us to determine when exactly everything is dry. But because this will ultimately depend on the condition of your property, it is best to consult with your technician. However, please do not turn off the drying equipment if the carpet feels dry to the touch; the subfloors may still be wet underneath.
How long does the drying process last?
This will ultimately depend upon the current situation of your carpet. Your ServiceMaster Restoration by Complete technician will let you know when the process is finished. Common factors that will relate to the drying time include the following: duration of other emergency services, the location of the damage, the type of building material, how far it has spread, and current weather conditions. However, our technicians have years of experience in restoring water damage of all types; they will closely monitor all moisture and temperature levels as well as the equipment to determine the duration of the process. Please keep in mind that although the flooring may feel dry to the touch, the layers underneath may still be wet. In general, the process lasts between 3 and 5 days; however, if it involves wood flooring, the process may last up to several weeks. Feel free to visit our water damage cleanup checklist to gain a further understanding of all services that may be needed for your property.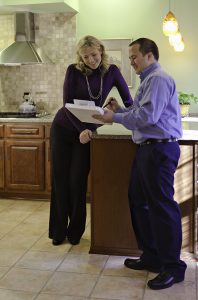 Do I need to move out of my home during the drying process?
If an insurance claim was filed, your agent will be able to help you decide whether or not it is best to move out of your property. Although our equipment does not pose any risk towards children, we do recommend that they stay away from it while it is in operation. In addition, the drying equipment and dehumidifiers will create noise and drafty conditions. While it is essential that they remain on, you may want to consider living somewhere else. If you do decide to move out, keep in mind to suspend the following: utility services, newspaper services, and cable services. You will also want to forward your mail to your temporary address.
What will happen to my wet furniture and contents?
ServiceMaster Restoration by Complete will restore all content and furniture that have been severely damaged by the water. However, as some items may be unsalvageable, we will help you determine what will need to be replaced. We will also provide you with a customer release form to be signed that includes documentation of the damaged furniture.
Do my cracked hard surface floors need to be replaced or dried?
Your water cleanup specialist will let you know, based on their inspection, whether they will need to be replaced or restored. If they can be restored, our advanced drying equipment and products will create the perfect conditions that will allow them to be returned to their original condition. Although wood floors with a urethane finish will take up to three weeks, or longer, to be dried completely. If the situation depends on money, your insurance claims agent will be able to help you decide what is the best option for you in terms of restoration or replacement.
If I turn up the temperature on my property, will it speed up the drying process?
ServiceMaster Restoration by Complete will set optimal temperatures that will allow all building materials and content to be restored effectively and efficiently. We do ask that the thermostat and air duct system remain on and consistent throughout the process so all materials can be dried as quickly as possible.
Why does it smell funny?
As your building materials and content are drying, odors will occur naturally. However, this is not to be confused with mold as it has a unique smell that occurs when water damage is not treated. Upon request, your water cleaning specialist can apply an odor-removing chemical that will eliminate the strange smells. However, these smells will be gone as soon as the drying process is finished.
How can my wet ceilings be restored?
Any moisture that is contained in the ceilings will be measured effectively by your water damage restoration technician. It may be necessary to remove a tile or two to allow air circulation throughout the affected area. In addition, any wet insulation will need to be replaced to allow for better air flow.
Will opening the windows speed up the drying process?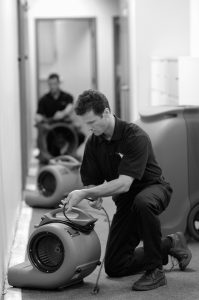 The answer to this question ultimately depends on outside conditions. Your technician will inform you if this will assist in the process.
Is it OK to walk on the wet floors during the drying process?
ServiceMaster Restoration by Complete recommends that all foot traffic be kept to a minimum during this process; however, if it is necessary, please wear shoes when walking across the wet area.
Floor Coverings and Carpeting
Will my carpet need to be restored or replaced?
The answer to this question ultimately relies upon the unique situation of every flooring. If your carpet has any of the following damages, a replacement may be necessary:
Sewage backup contamination
Permanent stains (dirt, food, red wine, etc.)
Carpeting is covering hard wood floors (to restore the wood flooring
Loss of adhesion (prolonged exposure to moisture or the age of the carpet)
Delamination (when the carpet fibers have become detached from the seams)
Who will set up and monitor the drying equipment?
ServiceMaster Restoration by Complete is in charge of the drying equipment at all times so you can focus on other matters. Although we do ask that it not be moved or turned off during any time of the drying process. This will guarantee the most effective and efficient restoration process. If the equipment does turn off by itself, please call us right away.
Why does the specialty flooring have to be replaced?
All flooring, whether porous or nonporous, will hold some amount of water, preventing it from drying to its original condition; therefore, a replacement is the best solution for specialty flooring.

What is the cost of running the drying equipment?
The answer to this question will ultimately depend upon your local electric rates. Typically, the cost is $1 per machine per day; however, your electric provider will be able to give you an exact cost.
Sewage Backups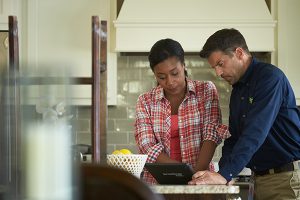 What happens during sewage backups?
For non-porous materials and hard surface flooring, they will be disinfected and dried thoroughly, eliminating all bacteria. Any porous materials, including sheetrock, painted materials, paneling, insulation, particleboard, etc. will be disposed of upon your water cleanup technician's arrival.
Payment
Who is ultimately responsible for the payment of services?
You, as the property owner, are primarily responsible for the payment of all services. If an insurance claim was filed, you will only be required to pay the deductible at the time of the services. The rest will be billed to your insurance company. If a claim was not made, the full payment is required at the time of service. ServiceMaster Restoration by Complete will also provide you with a form that requires your signature before the technician begins any work. In the case of large losses, your mortgage company and their signature may also be listed as a payee on the form.
Is there anything I can do to prevent this from happening in the future?
Absolutely. Please visit our page on how to prevent water and fire damage in the future to save you time, money, and a huge headache down the road.
---
Recent Reviews
Review by

Shayon M.
for
Disaster Restoration
Rating

"The project manager and his team were very efficient and knowledgeable. Quick turnaround on all the issues we had at home."
---
Review by

Daniel C.
for
Disaster Restoration
Rating

"Work was excellent. Your people are very hardworking and conscience. I am very satisfied and would certainly recommend service master to friend and neighbors"
---
Review by

Valarie B.
for
Disaster Restoration
Rating

"All who worked did a great job, but there was a lack of communication between the various parties (insurance companies, condo association) about what work needed to be done to address the situation. The carpet was never removed. I'm not sure why."
---
ServiceMaster Restoration by Complete Reviews
Review us on Google