(347) 380-8388
The furniture in your home or office sees a considerable amount use on a daily basis. Not only do these pieces provide a place to sit, but they also enhance the ambience and appeal of the space. If the upholstery becomes worn-out, faded or dirty, that can impact the look of the entire room. ServiceMaster Restoration by Complete provides excellent upholstery cleaning services in New York, NY. When you opt for these services and have your upholstery cleaned by our professionals, it improves the appearance of the furniture and protects it from deterioration and excessive fading.
Residential Upholstery Cleaning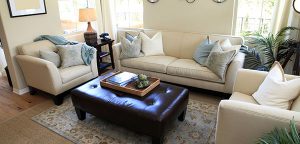 In your home, certain pieces of furniture such as your sofa get used almost every day. This regular use results in a lot of wear and tear and debris buildup. The latter can speed-up the deterioration process as the soil particles are abrasive and wear out the upholstery fibers. Our technicians use the latest techniques and cleaning solutions to remove all the debris that's embedded in the upholstery fabric.
The specialized hot water extraction method we use is highly effective in removing dirt and debris from the upholstery and it helps reduce wear and tear. These are the steps we follow in our residential cleaning services:
Vacuuming and stain pre-treatment
Hot water extraction for complete cleaning
Washing and polishing of frames
Commercial Upholstery Cleaning
Any furniture that's in a workspace is vital for providing comfortable spots for your staff to work. Dirty and unkempt-looking furniture impacts the comfort of your employees as well as the overall appearance of your office. Furniture in commercial spaces gets used more than pieces in a residential setting; this causes it to become stained and dirty and wear out much faster.
If this furniture isn't cleaned with regularity, you will have to replace those pieces more often which can be a large and unnecessary expense for your company. We can effectively handle upholstery cleaning of furniture in commercial spaces using the hot water extraction method.
This cleaning method helps revitalize the look of the fabric and increase the lifespan of the furniture. When you keep your furniture in a state of good repair, it adds to the comfort and aesthetics of your office space and helps create a healthy working environment. It's also a great way to make a good impression on your clients, customers, visitors and employees.
ServiceMaster Restoration by Complete can handle all your residential and commercial upholstery cleaning in New York, NY. Feel free to call us at (347) 380-8388 for more information or to schedule an appointment.
---
Recent Reviews
Review by

Shayon M.
for
Disaster Restoration
Rating

"The project manager and his team were very efficient and knowledgeable. Quick turnaround on all the issues we had at home."
---
Review by

Daniel C.
for
Disaster Restoration
Rating

"Work was excellent. Your people are very hardworking and conscience. I am very satisfied and would certainly recommend service master to friend and neighbors"
---
Review by

Valarie B.
for
Disaster Restoration
Rating

"All who worked did a great job, but there was a lack of communication between the various parties (insurance companies, condo association) about what work needed to be done to address the situation. The carpet was never removed. I'm not sure why."
---
ServiceMaster Restoration by Complete Reviews
Review us on Google