Some natural disasters can result in severe damage to a property that requires construction services to fix. Fires, accidents, and floods as well as major storms can cause intense structural damage to a building or home which can make it unstable and uninhabitable.
If this happens, you shouldn't delay in calling for help; the structure must be stabilized before its condition deteriorates further.
ServiceMaster Restoration by Complete provides excellent construction services in New York, NY. Our experts can stabilize and rebuild homes and commercial buildings that have been severely damaged in a disaster. We have a well-trained and experienced crew that plans and manages every step of the process. Our company uses high-quality materials and the latest techniques and equipment in our work which helps ensure the stability and integrity of the structure.
Construction Services for New York, NY
If your property has suffered this kind of damage, it can be extremely overwhelming for you to deal with the situation and you may not be sure what your next action should be. This kind of structural damage may force you to leave the premises. If you are a homeowner, it can completely disrupt the lives of your family; and if you are a commercial property owner, you may have to keep your business closed which can impact your earnings.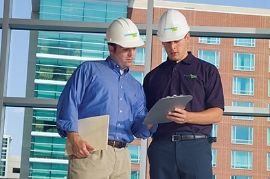 We recognize the urgency of these situations and it's why we respond promptly and work efficiently. Our expert technicians will inspect the property, assess the damage, and create a detailed reconstruction plan to get your property back to its original state. On our team are sub-contractors, handymen and carpenters that work methodically to ensure the work is done in the best possible way.
Our project managers oversee the work, manage all the scheduling, and make sure that all the work meets our high-quality standards. We also keep the communication lines open and you can always discuss the construction plan with the project manager on site. The construction services that we provide include:
Complete general contracting
Acquiring permits & licenses
Full-scale remodeling
Consultation & design solutions
Carpentry, custom woodwork, framing
Architectural reporting & blueprints
Roof repair/replacement
Customized window treatments
Carpeting and flooring
Plumbing & electrical work
Surface staining and painting
Smoke sealing
Wallpapering
When a home or building suffers severe damage, it's crucial that it be secured without any delay. That's the only way to prevent deterioration of the structure and avoid any dangerous situations. If you have noticed any kind of damage to your residential or commercial property in New York, NY, simply call us at ServiceMaster Restoration by Complete.
We will act quickly to stabilize & rebuild the structure with our expert construction services. We operate 24/7; no matter what time of the day or night you call, there will be someone to respond. You can contact us at (347) 380-8388 for emergency assistance.
---
Recent Reviews
Review by

Shayon M.
for
Disaster Restoration
Rating

"The project manager and his team were very efficient and knowledgeable. Quick turnaround on all the issues we had at home."
---
Review by

Daniel C.
for
Disaster Restoration
Rating

"Work was excellent. Your people are very hardworking and conscience. I am very satisfied and would certainly recommend service master to friend and neighbors"
---
Review by

Valarie B.
for
Disaster Restoration
Rating

"All who worked did a great job, but there was a lack of communication between the various parties (insurance companies, condo association) about what work needed to be done to address the situation. The carpet was never removed. I'm not sure why."
---
ServiceMaster Restoration by Complete Reviews
Review us on Google