New York City certainly experiences its fair share of severe weather and many serious weather conditions such as floods and storms have the potential to cause devastating damage to a home or building. Indoor flooding leads to water damage on a large scale and the strong winds that accompany most storms can easily tear apart the siding and roof. Serious structural damage from floods or storms requires immediate attention to prevent it from getting even worse. ServiceMaster Restoration by Complete provides flood and storm damage restoration services in New York, NY to stabilize and repair heavily damaged homes and businesses. We have advanced water damage restoration equipment to restore the effects of indoor flooding and we can also stabilize and rebuild damage from major storms.
Flood Damage Restoration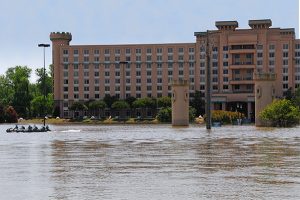 When a home or business experiences significant flooding, it is at risk for mold growth and major structural damage as standing water can easily penetrate flooring, wood, drywall, and other building materials. Flooding can happen at virtually any time because it can be caused by plumbing leaks, overflows, sewage backups, and burst pipes as well as natural floods and rain. Mold growth is not the only possible health threat caused by flooding, flood water from outside can bring in microorganisms and bacteria that also have negative health effects.
Our technicians are experts in water damage restoration and we have the right equipment to remove standing flood water as well as dry affected furnishings and materials. We start by removing all standing flood water with our water extraction equipment and then dry wet furnishings and building materials with strategically placed dehumidifiers. Our thorough drying procedure helps prevent mold growth or further damage from the moisture.
Our flood damage cleanup services include the following steps:
Removal of all standing flood water
Complete drying of wet furnishings and building materials
Thorough cleaning and disinfection to reduce the risk of health effects from mold or bacteria
Carpet and upholstery cleaning as needed
Storm Damage Restoration
Major storms such as thunderstorms, hail, strong winds, snowstorms, and hurricanes can each potentially hit the New York City area and cause significant property damage to homes and businesses. The combination of strong winds and precipitation can be especially damaging as the wind can rip apart the roof and siding which will let rain and snow into the building. Strong winds can also blow over trees, utility poles, and other large objects which can cause very serious damage if these objects fall on your home or car. ServiceMaster Restoration by Complete can help homes and businesses in New York, NY that were damaged by storms with these steps:
Board-up and tarping services to stabilize the home or building
Exterior damage repair including roofing, siding, and windows
Clearing of bushes, tree branches, and other natural debris
Clearing of siding, glass, and non-natural debris
You should not hesitate to call our professionals if you experience storm or flood damage to your home or building in New York, NY. Our technicians work quickly to limit the damage and stabilize the building and we can handle any level of damage from major storms or floods. We are ready to receive your call 24 hours a day at (347) 380-8388 to provide immediate storm and flood damage restoration.
---
Recent Reviews
Review by

Shayon M.
for
Disaster Restoration
Rating

"The project manager and his team were very efficient and knowledgeable. Quick turnaround on all the issues we had at home."
---
Review by

Daniel C.
for
Disaster Restoration
Rating

"Work was excellent. Your people are very hardworking and conscience. I am very satisfied and would certainly recommend service master to friend and neighbors"
---
Review by

Valarie B.
for
Disaster Restoration
Rating

"All who worked did a great job, but there was a lack of communication between the various parties (insurance companies, condo association) about what work needed to be done to address the situation. The carpet was never removed. I'm not sure why."
---
ServiceMaster Restoration by Complete Reviews
Review us on Google