(347) 380-8388
Mold in any areas of your home or commercial building can cause a number of problems such as adverse health effects, musty odors and property damage. Mold growth is common in spaces that have high moisture and humidity levels and the right food sources. Once the mold matures, it disperses spores and this can spread the growth to the unaffected areas of your home too.
ServiceMaster Restoration by Complete is a leading operator in this field and we provide expert mold remediation in New York, NY to residential as well as commercial customers. We are very prompt in our response and arrive at your location quickly to help contain the spread of the mold and use advanced cleaning products and equipment to remove it.
Mold Remediation Services in New York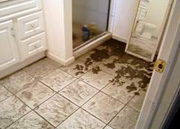 Moisture is the primary culprit of mold growth; it's why you may find mold growing in places that have been impacted by water damage. Mold thrives on cellulose and feeds off of drywall and wood. If this isn't addressed on time, the damage can become irreversible. Extended exposure to mold increases the risk of health-related issues including respiratory problems and allergies.
Our technicians use advanced equipment and cleaning processes such as antimicrobial cleaning and HEPA vacuuming. In addition, we can provide expert testing & analysis services; these are conducted by a nationally-recognized testing facility.
Mold Remediation Process
The mold remediation process we use will be dependent on every individual situation; however the basic steps we follow are:
Comprehensive assessment of the damage- this includes inspecting all the areas even for hidden mold spots
Our finding reports will be sent to your insurance company
The mold will be isolated in order to protect all the unaffected areas
Our technicians will identify what the best mold remediation method will be, based on the assessment and tests they conduct
The mold will be completely removed and the damaged features will be restored
It doesn't take long for mold to spread and it also causes a significant amount of damage, even as it increases the risk of severe health effects. If you have noticed mold growth anywhere in your home or commercial premises in New York, NY, call ServiceMaster Restoration by Complete for customized mold remediation services. We are available 24/7 at (347) 380-8388 and our technicians will be at your location with 1 to 2 hours of your call.
---
Recent Reviews
Review by

Shayon M.
for
Disaster Restoration
Rating

"The project manager and his team were very efficient and knowledgeable. Quick turnaround on all the issues we had at home."
---
Review by

Daniel C.
for
Disaster Restoration
Rating

"Work was excellent. Your people are very hardworking and conscience. I am very satisfied and would certainly recommend service master to friend and neighbors"
---
Review by

Valarie B.
for
Disaster Restoration
Rating

"All who worked did a great job, but there was a lack of communication between the various parties (insurance companies, condo association) about what work needed to be done to address the situation. The carpet was never removed. I'm not sure why."
---
ServiceMaster Restoration by Complete Reviews
Review us on Google