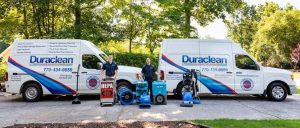 Any home or building can experience mold growth if the conditions are right.  Mold spores are a constant natural presence in the air and they are likely to form into mold colonies when they find an area that has a moisture source and food source.  Once mold growth forms, it is important to react to it immediately because it can cause widespread property damage as well as allergies and other health issues.  Duraclean Cleaning and Restoration provides mold removal services in Marietta, GA to clean up mold growth in homes and commercial buildings.  Our technicians can safely contain and remove mold growth, and we will test your property through a reliable third party to ensure that there is no remaining mold.
The presence of mold growth should be treated as an urgent problem because it will quickly spread to new areas, increasing the risk of serious property damage and health effects.  The most common food source for mold is cellulose which is contained in many common building materials like drywall, insulation, wood, and others.  This means that mold colonies literally devour the affected surfaces, and if given enough time, these surfaces may become irreversibly damaged.  The potential health issues are another major concern and these can also become worse with longer exposure.  Mold exposure typically leads to allergic reactions such as nasal congestions, headaches, skin irritation, and itchy eyes and throat while long term exposure may cause respiratory infections.
Mold Removal Process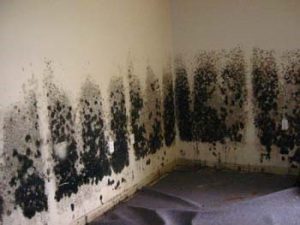 At Duraclean Cleaning and Restoration, our technicians are fully prepared to isolate and remove mold contaminations in homes and businesses.  We provide accurate mold testing through a third party to make sure we find all mold growth in your home.  We will then remove all mold and sanitize the affected areas to prevent mold related health effects as well as a return of the mold growth.
You can expect the following steps with our mold removal services:
Full inspection of your property by our technicians to find and contain all mold growth.
Testing from a third party industrial hygienist to help uncover the full extent of the mold and form a protocol for removal.
Complete mold removal according to the protocol.
Final testing from the third party to ensure there is no mold remaining.
It is very important to act as soon as you find mold growth on your property to help prevent extensive damage or health effects.  As soon as you notice mold in your home or business in Marietta, GA, contact Duraclean Cleaning and Restoration right away for mold removal.  We will ensure that your property is mold free with accurate testing and effective mold cleanup.  You can call us at (770) 679-2299 for professional mold remediation.
---
Recent Reviews
---
Review by Rayandra Slonina
Cleaning
Rating

"Duraclean is thorough, professional and prompt. Most recently, they cleaned my sectional sofa. Justin was meticulous and gave me additional suggestions on how to spot clean (I have 4 dogs). The sofa looks and smells great. I highly recommend them!"
---
Review by Heather Flowers
Cleaning
Rating

"Duraclean and Justin did an excellent job on my carpet cleaning! The carpet looks practically new. Justin is very professional and provides great customer service. He was on time, very friendly , and provided great tips for any future stains. I would definitely use Duraclean for any future services."
---
Review by John Brooks
Cleaning
Rating

"I was so comforted by this team.... Jennifer was so soft spoken & Kind & compassionate. Kris & Justin & Jennifer were all more than what we could have prayed for in this situation. Thank you."
---
See All Reviews