While mold typically develops in a small area, if given enough moisture, it can quickly spread, even to other areas of the home or building. When growing, mold will disperse its spores into the breathing air to search for another organic surface. If left untreated, it can trigger a number of negative health issues as well as cause severe structural damage to your property.
Duraclean Cleaning and Restoration is available in Atlanta, GA and the surrounding areas to provide full mold removal services for homes and businesses. Using advanced products and equipment, our technicians can successfully remove mold from all areas on the property, ensuring it won't return again in the future.
Complete Mold Remediation in Atlanta, GA
Mold often grows in hidden areas, making it difficult to notice at first. Common areas like basements, crawlspaces, and attics are typical spots for it to grow, provided that untreated water damage from poor insulation, heavy rain, high humidity, or leaks is present.
After calling Duraclean Cleaning and Restoration, our mold removal specialists will arrive promptly to assess the damage and provide you with a free estimate. They will then determine which rooms will need to be treated, creating a full home remediation plan designed to remove mold from all affected areas of the property.
Mold Removal Specialist in Atlanta, GA
Call Duraclean Cleaning and Restoration at (770) 679-2299 for mold remediation services in the Atlanta, GA area.
All of the following procedures are included within our mold remediation services in Atlanta, GA:
Mold inspection and evaluation of the damage
Reporting of evaluation to your insurance agency
Containing all mold spores within the affected areas to prevent them from spreading
Development of a remediation plan according to the evaluation
Complete mold removal using certified products and equipment
Final inspection to ensure mold doesn't return
Finding Mold: What to Do:
Call Duraclean Cleaning and Restoration right away to prevent it from spreading
Wipe down all walls containing condensation, provided that they do not contain mold
Wear protective clothing or equipment when present around mold, including eye wear, mask, and gloves
Lower the humidity levels within the home or building by setting up dehumidifiers and air conditioning unit.
Inspect the HVAC system for mold.
Improve the air circulation within the home or building by turning on the fan.
Mold Remediation: What NOT to Do: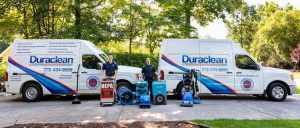 Do not paint or caulk over any mold.
Do not place a fan directly in front of mold.
Do not try to clean any mold yourself as improper cleaning techniques can worsen the damage and even cause negative health issues.
Do not disturb any visible mold.
There are many ways that mold can be prevented, such as keeping moisture levels low and restoring water damage right away, but once it develops, removing it can be very difficult. Often, mold removal will require the help of an expert, using professional products and equipment in order to remove it at its source.
Don't hesitate to give us a call as soon as you find mold on your property.
Mold Removal in Atlanta, GA

Contact Duraclean Cleaning and Restoration at (770) 679-2299 for professional mold removal services in Atlanta, GA and the surrounding areas. We provide free estimates.
---
Mold Remediation Related Services:
Mold Removal Services in Roswell, GA
Mold Remediation Services in Cartersville, GA
Black Mold Removal Services in Marietta, GA
Mold Removal Services in Alpharetta, GA
Mold Remediation Services in Acworth, GA
---
Recent Reviews
---
Review by Rayandra Slonina
Cleaning
Rating

"Duraclean is thorough, professional and prompt. Most recently, they cleaned my sectional sofa. Justin was meticulous and gave me additional suggestions on how to spot clean (I have 4 dogs). The sofa looks and smells great. I highly recommend them!"
---
Review by Heather Flowers
Cleaning
Rating

"Duraclean and Justin did an excellent job on my carpet cleaning! The carpet looks practically new. Justin is very professional and provides great customer service. He was on time, very friendly , and provided great tips for any future stains. I would definitely use Duraclean for any future services."
---
Review by John Brooks
Cleaning
Rating

"I was so comforted by this team.... Jennifer was so soft spoken & Kind & compassionate. Kris & Justin & Jennifer were all more than what we could have prayed for in this situation. Thank you."
---
See All Reviews