Duraclean Cleaning and Restoration
While it is a natural occurrence in our environment and necessary for the breakdown of organic materials, mold also has the ability to cause severe structural damage to our homes and buildings. The spores it releases also trigger a number of health problems, including allergies and respiratory problems.
Mold growth usually develops in areas with high moisture and an organic food source. The building materials in our properties offer it a "healthy meal" as they contain cellulose, the prime "ingredient" it needs. Combine this with moisture from water damage, and mold will form in no time, eating away at the building structure. The risk for negative health effects is also a problem for everyone on the property.
Duraclean Cleaning and Restoration provides efficient and effective mold removal services in Alpharetta, GA to fully remove mold growth from all surfaces. Our mold remediation teams use advanced products designed to eliminate the mold at its source and prevent it from returning in the future.
Dangers of Mold Growth in Homes and Buildings in Alpharetta, GA
When there is excess moisture on the property, the risk for mold growth is heightened, threatening to consume any building materials and furnishings in its path, including drywall, insulation, flooring, carpeting, paint, wood, and even upholstery.
If you recently experienced water damage or flooding on your property, be sure to get water damage restoration services on the site as soon as possible. This can be a primary cause of mold in a home or business.
Mold is not only unsightly, but it will cause stains and significant surface damage to the property's structure. Once it has found a surface to latch onto, it will disperse its spores into the air, in search of another area to infect.
The airborne mold spores are what trigger the health problems. Known as mycotoxins in the mold, exposure can cause allergic reactions, including coughing, sneezing, nasal congestion, itchy eyes and throat, skin irritation, and even fever. There are also long-term health effects such as infections and asthma that can occur.
Contact Duraclean Cleaning and Restoration for mold removal services at (770) 679-2299.
How the Mold Removal Process in Alpharetta, GA Works

Our mold specialists at Duraclean Cleaning and Restoration are experts when it comes to comprehensive mold removal in homes and buildings. Our advanced disaster restoration equipment is capable of not only removing the mold at its source but preventing it from spreading even further during the service. We will also repair any structural damage, followed by eliminating any musty odors it caused.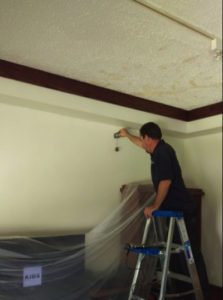 Our mold remediation services in Alpharetta, GA can provide all of the following:
Property evaluation to identify the extent of the damage and presence of any black mold
Property containment through air chambers to prevent the mold from spreading further
Mold removal using professional products and equipment
Repair of any building materials needed after the mold remediation is completed
As soon as you find mold on your property, it's important to call Duraclean Cleaning and Restoration right away for complete mold removal services.  This will prevent the fungus from spreading and causing additional damage and increasing the risk of negative health effects.
Our mold cleanup technicians will ensure that the mold is completely removed and that it won't return any time in the future.
Expert Mold Remediation Services in Alpharetta, GA

Give us a call at (770) 679-2299 for a free estimate on mold removal services in Alpharetta, GA and the surrounding areas. Our mold remediation teams are available 24/7 to respond to emergency cases.

---
Mold Remediation Related Services:
Mold Removal and Remediation Services in Atlanta, GA
Mold Removal Services in Roswell, GA
Mold Remediation Services in Cartersville, GA
Black Mold Removal Services in Marietta, GA
Mold Remediation Services in Acworth, GA
---
Recent Reviews
---
Review by Rayandra Slonina
Cleaning
Rating

"Duraclean is thorough, professional and prompt. Most recently, they cleaned my sectional sofa. Justin was meticulous and gave me additional suggestions on how to spot clean (I have 4 dogs). The sofa looks and smells great. I highly recommend them!"
---
Review by Heather Flowers
Cleaning
Rating

"Duraclean and Justin did an excellent job on my carpet cleaning! The carpet looks practically new. Justin is very professional and provides great customer service. He was on time, very friendly , and provided great tips for any future stains. I would definitely use Duraclean for any future services."
---
Review by John Brooks
Cleaning
Rating

"I was so comforted by this team.... Jennifer was so soft spoken & Kind & compassionate. Kris & Justin & Jennifer were all more than what we could have prayed for in this situation. Thank you."
---
See All Reviews