Duraclean Cleaning and Restoration
Not many people think about a violent death or accident occurring on their property, particularly because of the gruesome sight and emotional pain. But these situations do happen and when they do, it's important to take immediate action to protect yourself and everyone else on the property.
A violent crime scene will likely contain biohazardous materials like blood and body tissue that are covered in bacteria, running the risk for infection. It's imperative to stay away from this area until emergency responders arrive to examine the materials, followed by a professional biohazard cleanup team to restore the scene.
Duraclean Cleaning and Restoration provides professional biohazard cleanup and crime scene cleaner services in Alpharetta, GA to fully disinfect and restore safe and healthy living conditions on the property. Our trauma cleaning professionals are licensed and fully equipped to handle the cleanup process effectively. We will remove all dangerous biohazards, followed by disinfecting the scene to remove the remaining bacteria. We also work efficiently, and our crime scene cleaners will not interrupt an investigation.

Finding a Trauma Scene in Alpharetta, GA

Finding biohazards and other dangerous materials on your property is definitely overwhelming, but it's crucial to take the necessary steps to have the area restored for your safety. The first step is to call the EMTs to respond to any victims involved.
Be sure to avoid the scene to prevent the risk of sickness or infection as the area contains a number of bacteria and viruses. As the EMTs are not trained or responsible for cleaning up the area, it's important to call Duraclean Cleaning and Restoration to handle the biohazard cleanup process.
Professional Crime Scene Cleaners in Alpharetta, GA
Our biohazard cleanup specialists are licensed, trained, and experienced when it comes to restoring areas from biohazards. This includes crime scenes where we take the utmost care in following regulations.
We use professional equipment and cleaning products to remove blood, bodily fluids, tissues, and other bacteria from the scene. After the materials are removed, our trauma cleanup technicians will thoroughly disinfect, deodorize, and clean the scene to remove all traces of the biohazard materials. We will also provide any repairs or replacements needed to fully restore the property.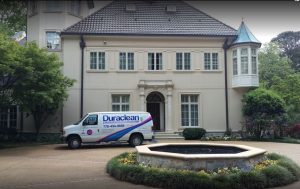 Our biohazard cleanup and crime scene cleaning services include all of the following in Alpharetta, GA:
Removal of all blood, tissues, and other biohazard materials
Proper disposal of all biohazard materials at a licensed facility
Deep cleaning of the trauma scene
Compliance with safety standards according to all local and state regulations
Crime scene cleaners who will work with law enforcement to prevent jeopardizing the investigation
Duraclean Cleaning and Restoration completely understands that finding a trauma scene can be overwhelming, especially when it involves the death or injury of a loved one. That's why our professionals always approach the scene with a sense of compassion and respect in order to provide an efficient and effective service. Our crime scene cleaners also protect your privacy while removing all evidence.
If you find an accident or injury of any type on your property, the first step is to protect your safety and avoid the area, followed by calling the authorities, and finally our biohazard cleanup experts at Duraclean Cleaning and Restoration.
Fast Response Biohazard and Crime Scene Cleaners in Alpharetta, GA

Duraclean Cleaning and Restoration is available 24/7 at (770) 679-2299 to provide complete biohazard and trauma cleanup services in Alpharetta, GA and the following areas. Our teams include experienced crime scene cleaners who can work with law enforcement.
---
Recent Reviews
---
Review by Rayandra Slonina
Cleaning
Rating

"Duraclean is thorough, professional and prompt. Most recently, they cleaned my sectional sofa. Justin was meticulous and gave me additional suggestions on how to spot clean (I have 4 dogs). The sofa looks and smells great. I highly recommend them!"
---
Review by Heather Flowers
Cleaning
Rating

"Duraclean and Justin did an excellent job on my carpet cleaning! The carpet looks practically new. Justin is very professional and provides great customer service. He was on time, very friendly , and provided great tips for any future stains. I would definitely use Duraclean for any future services."
---
Review by John Brooks
Cleaning
Rating

"I was so comforted by this team.... Jennifer was so soft spoken & Kind & compassionate. Kris & Justin & Jennifer were all more than what we could have prayed for in this situation. Thank you."
---
See All Reviews