Duraclean Cleaning and Restoration
It can be difficult to prevent water damage in any home or building because there are so many ways it can occur. With numerous sources, like pipe leaks and bursts, sewage backups, floods, appliance malfunctions, rain, and flooding, it's nearly impossible to prevent it from entering your property and causing damage to your building materials. Excess water can cause warping, discoloring, rotting, and staining. Not to mention the risk for mold growth that will increase by the hour.
Duraclean Cleaning and Restoration understands the urgency to restore the property and dry it out, which is why we provide 24/7 water damage restoration services in Alpharetta, GA. Our water mitigation technicians respond immediately in order to extract all standing water while reducing moisture levels to restore a safe and healthy living environment for everyone on the property.
Why Water Damage Repairs in Alpharetta, GA Need to Happen Quickly
Water damage from a small leak or a flood is enough to cause thousands of dollars of damage in the home or building. Porous materials are especially at risk, including insulation, flooring, drywall, and wood, absorbing water as it spreads to new areas throughout the building.
Everything from discoloration to buckling to permanent structural damage can occur as water spreads throughout the rest of the property without immediate attention from a disaster restoration company.
This is why it's important to get water restoration crews on the site immediately, as the rest of the building materials will absorb the water and increase the risk for mold growth.
Our flood cleanup technicians at Duraclean Cleaning and Restoration are trained to respond immediately to water damage restoration cases of all types in Alpharetta, GA. We will arrive right away with advanced products and equipment designed to extract any standing water and dry out the remaining materials on the property.
We can also repair any structural damage, removing soiled drywall, insulation, or flooring, if needed.
Duraclean Cleaning and Restoration is available 24/7 at (770) 679-2299 for water restoration services.
How the Water Restoration Process in Alpharetta, GA Works
Here at Duraclean our water damage restoration crews have seen some of the worst water damage cases around Alpharetta, GA. When it comes to flood cleanup teams, you will want that kind of experience to save and salvage as much of the property as possible.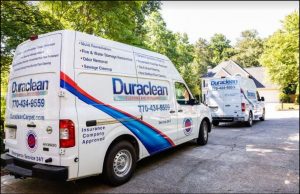 Any existing floodwater will be immediately extracted upon our arrival. Then, we will carry out complete water damage repairs.
Our water damage restoration services in Alpharetta, GA include all of the following steps:
Emergency Response: Our flood cleanup technicians are available at all hours of the day to respond to water damage emergencies in Alpharetta, GA and the surrounding areas. We will arrive right away, containing the damage to the affected area and creating the best plan of action.
Water Extraction: We will use powerful water extraction equipment to remove all standing water, following by setting up our dehumidification and drying equipment to remove the remaining moisture from the affected materials.
Cleaning and Disinfection: Once the area is completely dry, our water restoration technicians will make any repairs needed to the building materials while disinfecting hard surfaces and performing necessary mold remediation services.
Structural Repairs: Any structural damage that was caused by the flooding or water damage will be repaired by our technicians.
As we provide timely and efficient service, Duraclean Cleaning and Restoration also provides free estimates for our water damage restoration services. We will also coordinate the water damage claims process with your insurance provider to allow for additional peace of mind.
Water Damage Restoration Services in Alpharetta, GA
Never hesitate to reach out for help upon discovering water or flood damage in your home. Our flood cleanup technicians are available 24/7 at (770) 679-2299 to respond to water damage restoration emergencies in Alpharetta, GA.
---
Related Water Damage Restoration Services:
Water Restoration Services in Atlanta, GA
Water Mitigation Services in Roswell, GA
Flood Cleanup Services in Cartersville, GA
Water Restoration Services in Marietta, GA
Water Damage Services in Acworth, GA
Water Damage Restoration in Sandy Springs, GA
---
Recent Reviews
---
Review by Rayandra Slonina
Cleaning
Rating

"Duraclean is thorough, professional and prompt. Most recently, they cleaned my sectional sofa. Justin was meticulous and gave me additional suggestions on how to spot clean (I have 4 dogs). The sofa looks and smells great. I highly recommend them!"
---
Review by Heather Flowers
Cleaning
Rating

"Duraclean and Justin did an excellent job on my carpet cleaning! The carpet looks practically new. Justin is very professional and provides great customer service. He was on time, very friendly , and provided great tips for any future stains. I would definitely use Duraclean for any future services."
---
Review by John Brooks
Cleaning
Rating

"I was so comforted by this team.... Jennifer was so soft spoken & Kind & compassionate. Kris & Justin & Jennifer were all more than what we could have prayed for in this situation. Thank you."
---
See All Reviews