Duraclean Cleaning and Restoration
770-679-2299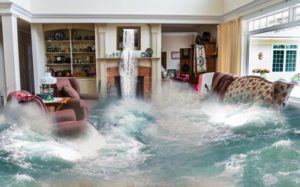 Here at Duraclean Cleaning and Restoration in Acworth, GA, our flood cleanup crews will perform total water damage restoration services for your property. Water damage can come from broken pipes, leaking roofs, toilet overflows, sewer backups, rain runoff, and a number of other sources.  Since mold and mildew can start to grow within 48 hours of moisture setting in, it is very important to address water damage quickly.
Why Water Damage Restoration Needs to Happen Fast in Acworth, GA
It's crucial to contact flood cleanup or water restoration services as soon as the presence of water is discovered. Water damage should be treated as an emergency, which is why Duraclean Cleaning and Restoration responds to water damage restoration cases 24/7 in Acworth, GA.
If the water is contaminated in any way, we are also equipped to performance complete sewage removal. When water seeps into an area, the surrounding structure will quickly warp and suffer from rot. Mold can even start to grow in under a day after the water damage occurs. To make matters worse, water damage claims increase substantially if prompt action is not taken to mitigate the damage.
That's why our primary objective is to prevent secondary damage and get you back in business and to restore your property and livelihood, reducing your downtime and costs.
Call Duraclean Cleaning and Restoration at (770) 679-2299.
The Flood Cleanup and Water Restoration Process in Acworth, GA
The water restoration process unfolds with an initial inspection and assessment by a project manager. Then, immediate water removal is performed by flood cleanup crews who also apply antimicrobial applications to prevent mold growth.  This is followed by air movement and dehumidifying with daily monitoring from the water restoration team.
Our water restoration services in Acworth, GA include:
Inspection of water damage
Antimicrobial Application
Water/Moisture Extraction
Furniture Removal
Pack-out Services during water restoration process
Drying/Air Movement/Dehumidifying
Daily Monitoring
Duraclean Cleaning and Restoration's water mitigation process is proven to be effective in all water damage scenarios. Once the area is dried by our flood cleanup crews, we begin the total water damage repairs on the property.
Water Restoration in Acworth, GA
Here at Duraclean Cleaning and Restoration in Acworth, GA, we have been providing expert water restoration to residential and commercial properties throughout northwestern Georgia for years. If you experience water damage to your property, call Duraclean Cleaning and Restoration in Acworth, GA  for water damage restoration today at (770) 679-2299.
---
Related Water Damage Restoration Services:
Water Restoration in Atlanta, GA
Water Mitigation Services in Roswell, GA
Flood Cleanup Services in Cartersville, GA
Water Restoration Services in Marietta, GA
Water Restoration in Alpharetta, GA
Water Damage Restoration in Sandy Springs, GA
---
Recent Reviews
---
Review by Rayandra Slonina
Cleaning
Rating

"Duraclean is thorough, professional and prompt. Most recently, they cleaned my sectional sofa. Justin was meticulous and gave me additional suggestions on how to spot clean (I have 4 dogs). The sofa looks and smells great. I highly recommend them!"
---
Review by Heather Flowers
Cleaning
Rating

"Duraclean and Justin did an excellent job on my carpet cleaning! The carpet looks practically new. Justin is very professional and provides great customer service. He was on time, very friendly , and provided great tips for any future stains. I would definitely use Duraclean for any future services."
---
Review by John Brooks
Cleaning
Rating

"I was so comforted by this team.... Jennifer was so soft spoken & Kind & compassionate. Kris & Justin & Jennifer were all more than what we could have prayed for in this situation. Thank you."
---
See All Reviews