One of the reasons water damage is so common is because of the number of sources from which it comes, making it one of the most frequent types of property damage. Sources like heavy rain, burst and leaking pipes and appliances, and sewage backups can all contribute to severe structural damage, especially if immediate action isn't taken right away.
Duraclean Cleaning and Restoration is available in Atlanta, GA to provide professional water damage restoration services for homes and buildings. Regardless of the scope of the project, we take all cases very seriously and are always inspecting for additional signs of damage. As soon as we arrive, the water will be extracted, and we will set up professional air movers and dehumidifiers. Moisture detection meters will also be used to ensure all excess moisture has been removed from the property structure.
Why Water Damage Repairs Need to Happen Fast
Water damage may start small, but it can quickly spread to other areas, making the restoration project much more extensive. If you call Duraclean Cleaning and Restoration right away, we will contain all of the damage to the specific area. If there are any cases of mold found, we will also proceed with mold remediation.
Using professional disaster restoration equipment and products, you can be sure that each of the affected areas will be restored properly. Our water restoration technicians will also communicate with your insurance company during the claims process, allowing the project to run as smoothly as possible.
If the water is contaminated, we are also equipped to perform complete sewage backup cleanup.
The Water Restoration Process

There are also different kinds of water damage, depending on the source of the water. The different categories of water damage include freshwater damage, gray water damage, and contaminated water damage. Contaminated water damage usually involves sewage water which contains numerous biohazard materials and bacteria that make this job very dangerous without the right equipment. With these dangerous hazards, the area must be restored by a licensed technician.
Our technicians at Duraclean Cleaning and Restoration arrive shortly after your first call to discard all soiled products, disinfect all surfaces, and dry out the remaining structure. With professional sewage cleanup, you can be sure that each of your items and household surfaces will be restored effectively.
Our water damage restoration services in Atlanta, GA include all of the following:
Risk and damage assessment,
Moisture source removal
Water extraction
Application of antimicrobials
Drying and dehumidification of the structure
Content cleaning and pack out services (if necessary)
Mold inspection and removal
What to Do When Finding Water Damage: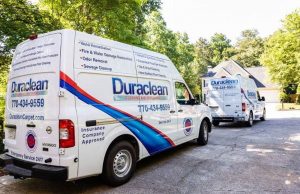 Contact Duraclean Cleaning and Restoration right away
Remove any sculptures, paintings, and other wall art from the walls and place them in a high, safe location
Pack books tightly in their shelves
Wipe down any and all wet furniture to inhibit mold growth
Remove any carpeting that isn't tacked down to the floor
Improve the airflow throughout the home, including opening doors, closet doors, drawers, and cabinets
Water Extraction – What NOT to DO:
Do not use a household vacuum cleaner to extract the water
Do not touch or disturb any visible mold
Do not use any electronics that have been water damaged
Do not enter any room with severe structural or electrical damage
Water damage is never easily contained, which is another reason why a team of professionals should be called right away. Our experts at Duraclean Cleaning and Restoration will arrive quickly to secure the area and begin the restoration process. All surfaces and content will effectively be dried out and cleaned.
Complete Water Damage Restoration in Atlanta, GA
For professional water damage restoration in Atlanta, GA and the surrounding areas, contact Duraclean Cleaning and Restoration at (770) 679-2299.
---
Related Water Damage Restoration Services:
Water Mitigation Services in Roswell, GA
Flood Cleanup Services in Cartersville, GA
Water Restoration Services in Marietta, GA
Water Damage and Flood Cleanup Services in Acworth, GA
Restoration from Water Damage Services in Alpharetta, GA
---
Recent Reviews
---
Review by Rayandra Slonina
Cleaning
Rating

"Duraclean is thorough, professional and prompt. Most recently, they cleaned my sectional sofa. Justin was meticulous and gave me additional suggestions on how to spot clean (I have 4 dogs). The sofa looks and smells great. I highly recommend them!"
---
Review by Heather Flowers
Cleaning
Rating

"Duraclean and Justin did an excellent job on my carpet cleaning! The carpet looks practically new. Justin is very professional and provides great customer service. He was on time, very friendly , and provided great tips for any future stains. I would definitely use Duraclean for any future services."
---
Review by John Brooks
Cleaning
Rating

"I was so comforted by this team.... Jennifer was so soft spoken & Kind & compassionate. Kris & Justin & Jennifer were all more than what we could have prayed for in this situation. Thank you."
---
See All Reviews