Property fires are known to be among the most destructive and dangerous natural disasters. There are numerous sources that can cause a fire, including fireplaces, gas leaks, open flames on a stove or candle, and many more. When a fire starts and spreads, immediate action must be taken to evacuate the building and call the fire department.
Complete Fire Restoration in Atlanta, GA
After the flames are extinguished, call a licensed professional for fire damage restoration services. Duraclean Cleaning and Restoration is available in Atlanta, GA and the surrounding areas to provide full fire damage repair services and fire restoration right after the flames have been extinguished.
Each of our disaster restoration professionals has years of training and experience in restoring everything from commercial buildings to apartments from fire damage.
Our fire restoration technicians also use advanced products and equipment that are specifically designed to remove smoke damage and restore affected surfaces. They also attend frequent classroom training sessions to stay updated on the latest trends in the restoration industry. With these services, you can be sure that your home or building will be restored from fire damage efficiently and effectively.
Our professional equipment and products allow us to provide effective and efficient fire damage restoration services in Atlanta, GA.
These fire restoration services include the following in Atlanta GA:
24/7 Availability and Emergency Response
Emergency Pre-Cleaning
Content Cleaning and Pack Outs
Restoration of All Affected Surfaces
Deodorization
Fire Restoration in Atlanta, GA
Contact Duraclean Cleaning and Restoration at (770) 679-2299 for fire damage restoration services in the Atlanta, GA area.
Restoring Fire and Smoke Damage in Atlanta, GA
Smoke damage byproducts produced from burnt combustible materials is enough to cause permanent damage to your property if not cleaned immediately. When smoke settles after a fire, it can seep into porous materials and furnishings, compromising their structural makeup, thus making them impossible to restore. But when called right away, Duraclean Cleaning and Restoration will effectively remove all of the corrosive materials from all surfaces, using powerful chemical cleaners.
Fire Restoration – What to Do:
Call Duraclean Cleaning and Restoration right away after a property fire.
Cover all vents with two layers of cheesecloth.
Change the HVAC filter.
If the temperature of the property exceeds 60 degrees, improve the air circulation to remove remaining smoke odors.
Clean and wipe off any of the following materials: chrome, aluminum, porcelain, Formica.
Deliver any damaged clothing needed for immediate use to a special restoration dry cleaner.
Turn off the electricity to remove all items from the refrigerator, leaving the door open.
Throw away all open food containers.
Fire Damage Restoration – What NOT to Do: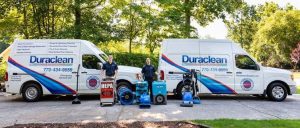 Do not use any electrical appliances that have not been inspected by one of our restoration technicians.
Do not try to restore any of the building materials or contents yourself as improper cleaning techniques can lead to worsened and even permanent damage.
Do not use any ceiling fixtures if the ceiling is wet.
Smoke Deodorization in Atlanta, GA

After the fire restoration service is complete, you may still notice a ghastly, overwhelming smoke odor. While household cleaners may be enough to mask the smell temporarily, the odor particles from the fire and smoke damage are still within the walls and furnishings.
Our Duraclean Cleaning and Restoration technicians can also take care of this issue with powerful deodorizers, allowing us to clean all air spaces and materials within the home. We will also remove the source of the odor if needed during the smoke restoration process.
Complete Fire Restoration in Atlanta, GA
Contact Duraclean Cleaning and Restoration at (770) 679-2299 for professional fire damage restoration services in Atlanta, GA and surrounding areas.
---
Related Fire Damage Restoration Services:
Fire Restoration Services in Roswell, GA
Fire Damage Restoration Services in Cartersville, GA
Restoration from Fire Damage Services in Marietta, GA
Fire Restoration Services in Alpharetta, GA
Fire Restoration Services in Acworth, GA
---
Recent Reviews
---
Review by Rayandra Slonina
Cleaning
Rating

"Duraclean is thorough, professional and prompt. Most recently, they cleaned my sectional sofa. Justin was meticulous and gave me additional suggestions on how to spot clean (I have 4 dogs). The sofa looks and smells great. I highly recommend them!"
---
Review by Heather Flowers
Cleaning
Rating

"Duraclean and Justin did an excellent job on my carpet cleaning! The carpet looks practically new. Justin is very professional and provides great customer service. He was on time, very friendly , and provided great tips for any future stains. I would definitely use Duraclean for any future services."
---
Review by John Brooks
Cleaning
Rating

"I was so comforted by this team.... Jennifer was so soft spoken & Kind & compassionate. Kris & Justin & Jennifer were all more than what we could have prayed for in this situation. Thank you."
---
See All Reviews