Duraclean Cleaning and Restoration
The sudden nature of fires along with their potential to cause devastating amounts of destruction make them one of the most dangerous natural disasters.  In the event of a fire, you must call the fire department immediately to put it out and ensure that everyone has been safely evacuated.
Watching the fire become extinguished may be a relief, but the secondary fire damage from the smoke and soot is just beginning.  That is why you should call a fire damage restoration company as soon as possible.
Duraclean Cleaning and Restoration provides fire damage restoration services to help restore fire damaged homes and buildings in Marietta, GA.  Our fire cleanup technicians can repair structural damage caused by the fire and reverse the effects of secondary damage caused by smoke, soot, and odors.
Why Fire Restoration in Marietta, GA Needs to Happen Quickly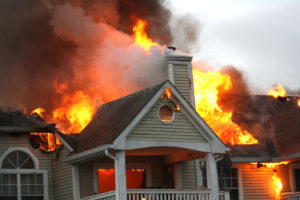 The damage from the fire itself is often the most obvious as it causes charring and destroys much of what's in its path.  The effects of smoke, soot, and other corrosive byproducts after the fire are sometimes less obvious but can be more destructive.
Soot and corrosive byproducts that form when synthetic materials are burned will keep spreading after the fire and settle in areas that the fire itself did not reach.  Surfaces and materials affected by soot and corrosive byproducts may become discolored or burned.
This damage will become permanent if fire damage restoration teams don't arrive soon enough.
Duraclean Cleaning and Restoration is prepared to respond to fire restoration emergencies in Marietta, GA, 24 hours a day.  We will immediately start the fire cleaning process to help prevent permanent damage from fire, as well as smoke byproducts and stabilize any structural damage caused by the fire.
Fire Cleanup Experts at Duraclean in Marietta, GA
The fire damage cleanup crews at Duraclean has seen some of the worst cases around Marietta, GA. When it comes to salvaging and saving your property from further destruction, you'll want those with fire damage restoration experience on the job.
Our advanced cleaning products are effective for removing fire and soot damage from a wide variety of household surfaces and materials.

Duraclean's complete fire damage restoration services in Marietta, GA consist of the following steps:
Emergency pre-cleaning to prepare for fire restoration
Content cleaning of items damaged by fire
Content pack-out and storage during fire damage restoration
Cleaning of fire-damaged walls, flooring, and ceilings
Deodorization, smoke, and soot removal
Fast Response Fire Damage Restoration in Marietta, GA

The damage caused by a fire is not purely physical as the smoke odor also tends to be a problem.  Smoke odors can be difficult to get rid of because they get absorbed into various materials around the home.
Our fire restoration technicians have the most advanced technology and equipment of the industry to completely remove smoke odors from the air space and affected materials.  Our equipment and cleanup methods include ozone generators, air scrubbers, thermal fogging, hydroxyl generators, and Nano carbon technology to ensure that your home or building is smoke and odor-free.
It is a relief to see the fire department put out a fire on your property, but you must act fast after the fire to salvage as much of your property as you can.  Duraclean Cleaning and Restoration is ready to provide emergency fire damage restoration services in Marietta, GA to limit the effects of the smoke and corrosive byproducts in the aftermath.  You can call us 24 hours a day at (770) 679-2299 for emergency fire restoration services.
---
Related Fire Damage Restoration Services:
Fire Damage and Smoke Restoration Services in Atlanta, GA
Fire Restoration Services in Roswell, GA
Fire Damage Restoration Services in Cartersville, GA
Fire and Smoke Restoration Services in Alpharetta, GA
Fire Restoration Services in Acworth, GA
---
Recent Reviews
---
Review by Rayandra Slonina
Cleaning
Rating

"Duraclean is thorough, professional and prompt. Most recently, they cleaned my sectional sofa. Justin was meticulous and gave me additional suggestions on how to spot clean (I have 4 dogs). The sofa looks and smells great. I highly recommend them!"
---
Review by Heather Flowers
Cleaning
Rating

"Duraclean and Justin did an excellent job on my carpet cleaning! The carpet looks practically new. Justin is very professional and provides great customer service. He was on time, very friendly , and provided great tips for any future stains. I would definitely use Duraclean for any future services."
---
Review by John Brooks
Cleaning
Rating

"I was so comforted by this team.... Jennifer was so soft spoken & Kind & compassionate. Kris & Justin & Jennifer were all more than what we could have prayed for in this situation. Thank you."
---
See All Reviews