Commercial and Residential Disaster Restoration Services
Call: (470) 458-3664 available 24/7
Service Area: College Park, GA | Clayton County and Fayette County, Georgia
RCM Restoration Services has been the leading provider of disaster restoration and cleaning services for homes and businesses in College Park, GA for over 20 years. Our professionals are standing by 24 hours a day to quickly respond to your emergency call and immediately begin the restoration process of your property. Our restoration services provide high-quality results as we use the best equipment and techniques in the industry.
When we first opened our doors, we were a small carpet cleaning operation until we switched to a disaster restoration service provider. RCM Restoration Services grew exponentially as a residential and commercial disaster restoration service provider. We proudly serve homes and businesses with a complete, certified staff and state-of-the-art equipment.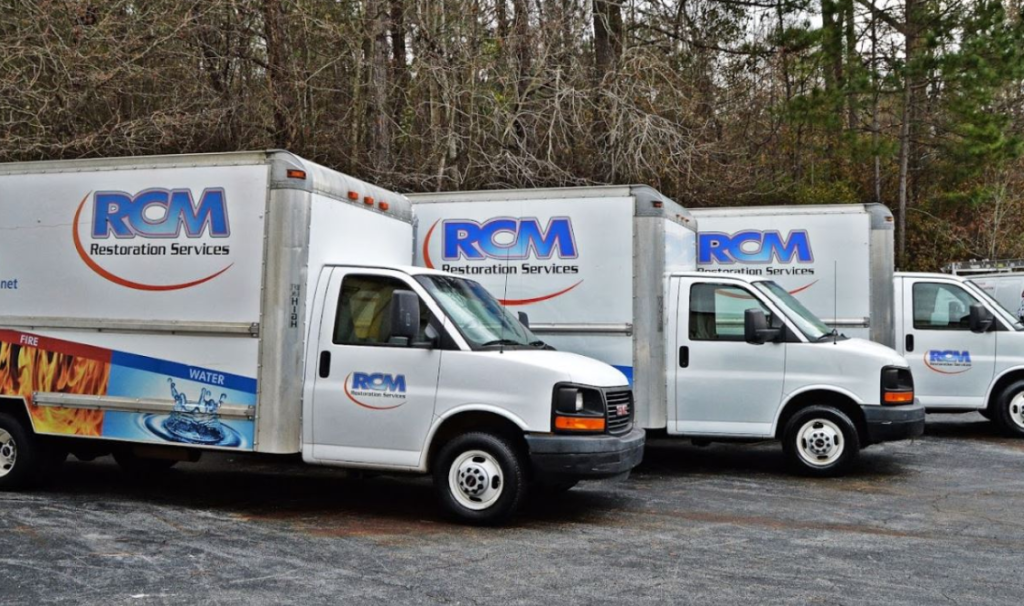 We provide the following disaster restoration and cleaning services:
Water Damage Restoration
Fire Damage Restoration
Mold Remediation
Storm Damage Restoration
Reconstruction Roofing
Hoarding Cleanup
Our technicians at RCM Restoration Services are available 24 hours a day to respond to the aftermath of a disaster. Every single one of our professionals is IICRC certified and can handle any level of damage to restore the property. We pride ourselves on providing quality results as well as exceptional customer service from our technicians. We are a member of DKI, the largest organization of restoration contractors in North America, and SCRT, the Society of Cleaning and Restoration Technicians.
RCM Restoration Services is available 24 hours a day at (470) 458-3664 for disaster restoration and cleaning services in College Park, GA.
One of the most common sources of property damage is water as it can become a problem due to rain, flooding, or even internal issues from leaks to overflows and sewage backups to plumbing problems. Excess water becomes dangerous as it quickly gets absorbed into the porous building materials and furnishings which can result in damage to the materials while also spreading the water. With water damage, there is also a high risk of mold growth. Our technicians at RCM Restoration Services provide water damage restoration in College Park, GA to help homes and businesses that have been affected by water and flooding. We will remove all water and moisture using our advanced equipment and ensure the damage is properly restored.
When a fire erupts, people are put in danger and immense damage can be caused to a property in the blink of an eye. The first wave of damage of this terrifying disaster is caused by the flames of the fire. Even when the flames are put out, the damage does not stop. Smoke, soot, and other corrosive byproducts that were created by the fire will linger long after the fire is put out and will continue to damage affected surfaces and objects. The restoration of the property must be started right away to stabilize structural damage and limit the spread of smoke and soot. Our technicians at RCM Restoration Services provide fire damage restoration services to clean up and repair affected homes and businesses in College Park, GA. We will repair structural damage and use advanced cleaning products to restore the materials damaged by smoke and soot.
The sight of mold in your home or business can be an unpleasant sight that requires immediate action. Mold is most common to appear in areas where there is a moisture source, and it causes damage to the materials it affects. Mold damage will spread and get worse if not removed quickly. Not only does it harm the property, but it also poses a serious health threat to the exposed individuals. Our technicians at RCM Restoration Services provide mold remediation services to remove mold growth from homes and businesses in College Park, GA. We use our advanced equipment and techniques to locate and remove all mold growth.
Storms can be detrimental to homes and buildings if they are severe. Tornadoes, hurricanes, and thunderstorms all involve strong wind and precipitation that can leave a property damaged in many ways. Roofing, siding, and windows can be damaged by strong wind which only leaves the property vulnerable to further damage from wind and precipitation. RCM Restoration Services offers storm damage restoration services to help repair properties damaged by storms in College Park, GA. We can repair physical damage to your property as well as address water damage.
Residential and Commercial Roofing – College Park, GA
Roofs play an important role in the structure of a home or building as they are the first line of protection for the property which makes it the most vulnerable to damage from the elements. Roofs are exposed to rain, wind, hail, snow, ice, and animals which can all cause wear and tear or serious damage. In the case that a roof gets damaged, it can create leaks that result in indoor water damage and structural issues that will get worse over time and eventually cause the roof to cave in. At RCM Restoration Services, we provide residential and commercial roofing services to restore roof damage to properties in College Park, GA.
Many people across the U.S. are affected by hoarding. Hoarding is considered a mental disorder as underlying anxiety and depression can trigger hoarding behaviors. Affected individuals usually have a hard time getting rid of possessions because of a perceived need to save them. This tends to cause clutter in the home and build up to an unsafe level. It is crucial that a trusted loved one reaches out to the affected individual to help them understand the danger of their situation. If the individual agrees to move forward with cleaning their home, call our professionals at RCM Restoration Services to help. We provide hoarding cleaning services to restore the homes of individuals affected by hoarding in College Park, GA. We will allow them to be in charge of deciding what items get removed, and we will help clean and restore the home to safe and sanitary condition.
Contact Us
For water and fire damage cleanup or any disaster restoration services in the College Park, GA area, contact RCM Restoration Services at (470) 458-3664.
---
Related Disaster Restoration Services:
---
Recent Reviews
---
Review by

C. B.
Rating

"Great group of people to do business with. I have worked with RCM on several projects and my experiences are always positive. Very well set up to accommodate any of your restoration needs. Highly recommend!"
---
Review by

C.H.I.
Rating

"This is an amazing company!!. They sincerely care about their clients. Rod and his team do a phenomenal job of restoring your home and business to it's original look! Fire and flooding is devastating but having someone like this company to help you get back to normal makes all the difference. Put this company on your contact list under favorites!! They get a A+++++ rating from me! Thank you RCM Restoration for your outstanding customer service and work ethic!!"
---
Review by

I. C.
Rating

"The people working at RCM are very nice. They did a great job on my mold mitigation. The only thing I did not like is the machinery that had to be used to fix the issue rose the temp in my house by 15 degrees in the summer."
---