RCM Restoration Services
The appearance of mold growth at your home or business is a major problem. Mold growth often appears due to untreated water damage. Mold will seep into porous surfaces and spread quickly, causing further damage, and it can also lead to many health problems. If you are facing a mold growth problem, make sure to reach out to our professionals right away so that we can help.
RCM Restoration Services provides mold remediation services for homes and businesses located in Clayton County, GA, including Ellenwood, Riverdale, College Park, GA, and surrounding areas. Our highly skilled technicians are IICRC certified and will remove mold from your property and restore it back to its original state.
Professional Mold Removal Services in Clayton County, GA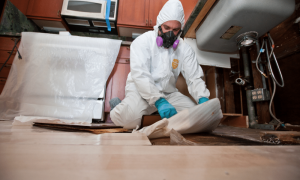 It is crucial that mold removal services are done by trained professionals with experience and hi-tech equipment. RCM Restoration Services offers safe and quick removal of mold growth to ensure that it does not spread and cause further damage. In the case that materials and objects have been heavily damaged by mold and are not salvageable, we will remove and discard them on your behalf. Mold removal requires an insurance claim, and we will collaborate with you and your insurance company to ensure the processing of the claim.
We offer the following mold removal services:
Abandoned and neglected property: We can clean and remove mold from properties that have been abandoned or neglected for a long time.
Long-term damage: We offer mold remediation services in homes or businesses that were exposed to moisture for extended periods of time. Our specialty is restoring the damage caused by this type of exposure to mold growth.
HVAC systems:  Mold spores can get into an HVAC system without your knowledge, spread, and cause mold growth. We specialize in removing these mold spores.
Commercial and Residential Mold Remediation
If you are facing mold growth in your home or business, do not hesitate to reach out to our professionals for mold remediation services. It is important to react to mold growth right away to prevent further damage to your property. If mold remains on objects and surfaces it can cause greater damage and even affect the structure of your home or business.
Mold growth has negative effects on your health. If exposed to mold growth, you can develop symptoms such as headaches, cough, and skin irritation. If you are exposed to mold for prolonged periods of time, you can even develop serious conditions such as asthma.
At RCM Restoration Services, we take the following steps during mold remediation services:
Water extraction and restoration: Mold usually occurs due to water damage, and we can proceed with mold remediation only when we get rid of the source of moisture. Our highly trained technicians provide water damage restoration which includes drying and dehumidification to prevent any future mold growth.
Removal of affected materials: We remove all materials and objects affected by mold growth that cannot be restored. Any vulnerable areas, such as inside walls, will be specifically treated to ensure that the moisture level is reduced.
Odor removal: Mold growth from water damage has a foul odor. Our professionals will remove the foul odor by using specialized deodorization methods.
Content cleaning: We take care of restoring all belongings affected by mold such as documents, artwork, electronics and more. We clean and restore your belongings either on or off-site, depending on need.
Structural repairs: In some cases, properties are affected by structural damage due to mold growth. We provide reconstruction and repair services to ensure that the property is rebuilt and safe for living.
Mold growth is a major problem, and it should be addressed by professionals so it can be removed properly and affectively. If you are facing a mold problem in your home or business in Clayton County, GA make sure to reach out to RCM Restoration Services for mold remediation services.
Call us at (678) 809-7788 for fast and effective mold removal services in Clayton County, GA.
---
Related Mold Remediation Services:
Mold Removal in Ellenwood, GA
Mold Remediation in McDonough, GA
Mold Removal Company in Newnan, GA
Mold Removal Company – Peachtree City, GA
---
Recent Reviews
---
Review by

C. B.
Rating

"Great group of people to do business with. I have worked with RCM on several projects and my experiences are always positive. Very well set up to accommodate any of your restoration needs. Highly recommend!"
---
Review by

C.H.I.
Rating

"This is an amazing company!!. They sincerely care about their clients. Rod and his team do a phenomenal job of restoring your home and business to it's original look! Fire and flooding is devastating but having someone like this company to help you get back to normal makes all the difference. Put this company on your contact list under favorites!! They get a A+++++ rating from me! Thank you RCM Restoration for your outstanding customer service and work ethic!!"
---
Review by

I. C.
Rating

"The people working at RCM are very nice. They did a great job on my mold mitigation. The only thing I did not like is the machinery that had to be used to fix the issue rose the temp in my house by 15 degrees in the summer."
---