RCM Restoration Services
Mold is a troublesome presence in a home or building because it leads to several different issues.  It almost always appears as a secondary effect of water damage because the spores need moisture to form into mold colonies.  Mold causes serious damage to the surfaces and objects affected and it is always a threat to spread by dispersing it spores.  The biggest problem with mold is that it can lead to various health problems in those who are exposed.  If there is a mold issue in a home or commercial building, it is best to call a certified professional to provide mold remediation.
RCM Restoration Services provides mold remediation for homes and businesses in Peachtree City, GA. Our technicians are licensed and IICRC certified to provide complete mold removal and restoration to repair damaged areas and return the property to a safe and sanitary environment.
Mold Removal You can Trust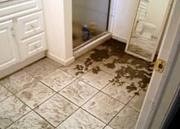 It is very important for mold remediation to be done by certified professionals who have the proper equipment and expertise to do it effectively.  At RCM Restoration Services, our technicians can safely and effectively find and remove all mold growth and prevent it from spreading to unaffected areas of your home.  Items and building materials that are permanently damaged will be safely removed as well.
In many cases of mold damage, it is necessary to file an insurance claim to cover the damage.  Our technicians can help homeowners and business owners work through the claims process with their insurance provider to cover the costs of the remediation.
We can provide mold removal for the following:
Abandoned and neglected property: We can provide mold remediation and testing in properties that have been abandoned or neglected for a long period of time.
Long-term damage: It is possible for a home or building to have moisture issues for an extended period of time within walls or in attics and crawlspaces. We can restore the damage caused by long-term moisture exposure and deal with the mold growth.
HVAC systems: Mold spores can easily get into your HVAC system which can lead to mold growth within the system and the spreading of the spores throughout the building. We can remove mold growth from the HVAC system.
Commercial and Residential Mold Remediation
Mold growth in homes and commercial buildings requires immediate attention.  Any hesitation to react to mold growth will only allow it to spread further and cause worse damage to the already affected surfaces.  Mold feeds on the surfaces it affects and will gradually eat away at the materials, eventually causing serious structural damage.
The health effects caused by mold exposure will also get worse the longer people are exposed.  Symptoms such as coughing, headaches, nasal congestion, and skin irritation may get worse over time and develop into more serious issues like respiratory infections.
At RCM Restoration Services, our mold remediation service consist of the following steps:
Water extraction and restoration: Most cases of mold occur due to water damage and mold remediation cannot happen until the water or moisture issue is fixed. Our technicians can provide complete water damage restoration including drying and dehumidification to prevent additional mold growth.
Removal of affected materials: Our technicians will remove materials affected by mold that cannot be salvaged. We will also ensure that the moisture level is reduced in vulnerable areas like inside walls.
Odor removal: Mold and water damage often leave a musty odor behind. We provide odor removal using advanced methods to remove any lingering musty odors.
Content cleaning: If you have personal belongings and other content affected by mold, we can restore your objects with our content cleaning and restoration services. Depending on the circumstances, we can either clean and restore your property on-site or remove them to handle the restoration at our facility.  We can restore a range of damaged items including personal belongings, important documents, and electronics.
Structural repairs: In severe cases, mold can lead to structural damage. We provide reconstruction services to rebuild and repair significant structural damage caused by mold.
Mold growth is a dangerous problem and requires the work of trained and licensed professionals to remove it effectively from your property.  If you have a mold issue in your home or commercial property in Peachtree City, GA, do not hesitate to call RCM Restoration Services for mold remediation services.
Free Estimate
Give us a call at (678) 809-7788 for fast and effective mold removal in Peachtree City, GA.
---
Related mold remediation services
Mold Removal in Ellenwood, GA
Mold Remediation in McDonough, GA
---
Recent Reviews
---
Review by

C. B.
Rating

"Great group of people to do business with. I have worked with RCM on several projects and my experiences are always positive. Very well set up to accommodate any of your restoration needs. Highly recommend!"
---
Review by

C.H.I.
Rating

"This is an amazing company!!. They sincerely care about their clients. Rod and his team do a phenomenal job of restoring your home and business to it's original look! Fire and flooding is devastating but having someone like this company to help you get back to normal makes all the difference. Put this company on your contact list under favorites!! They get a A+++++ rating from me! Thank you RCM Restoration for your outstanding customer service and work ethic!!"
---
Review by

I. C.
Rating

"The people working at RCM are very nice. They did a great job on my mold mitigation. The only thing I did not like is the machinery that had to be used to fix the issue rose the temp in my house by 15 degrees in the summer."
---