RestorationMaster
For homes and commercial buildings, the roofing is important for protecting the building from the elements.  However, because the roof is the first line of defense, it is vulnerable to damage from rain, strong winds, hail, and fallen branches and other debris.  Issues with the roof can become major problems as vulnerabilities like openings and damage can lead to leaks and water damage, wind damage, and intrusions from animals.  It is very important to cover and repair damaged roofing right away to avoid significant damage inside your home or building.
RestorationMaster provides reconstruction roofing services for homes and businesses in Peachtree City, Georgia.  Our technicians can cover and stabilize roof damage and ensure that your roof is fully repaired.  We can also address damage that occurred inside your property from roof leaks through our disaster restoration services.
Roof Damage and Its Effects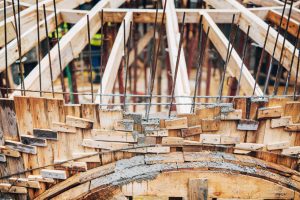 There are many things that can cause minor to severe damage to residential and commercial roofing.  Weather conditions like rain, wind, and hail can cause water damage and physical damage to the shingles, flashing, vents, drainage system, facia, and soffit, and falling debris such as tree branches can cause more serious structural damage.  Your roof is also vulnerable to damage from animals as well as general wear and tear.  On commercial roofing, these same elements can damage granulated and composite sheets as well as flashings, vents, and drainage.
Damage to your roof, whether minor or severe, can lead to serious issues in your property.  One of the most common issues with all types of roofing is leaks.  Roof leaks can happen if there is minor damage or openings and the water leaking in can cause serious damage to the affected wood, drywall, and insulation over time.  In some cases, roof leaks can even cause structural damage and create the conditions for mold growth.
Structural damage caused by wind, debris, and animals can be quite severe and leave your property vulnerable to further damage from the elements or even collapse.  Large openings in the roof allow wind and water damage to make the situation much worse and fallen trees and other large debris can put a massive strain on the entire building.
Whether your roof is leaking or has experienced mild or severe damage, these issues need to be addressed.
Professional Roofing
Damage to residential and commercial roofing requires an urgent response.  Our professionals at RestorationMaster can cover, stabilize, and repair the damage to your roof.  We will respond quickly to your call to prevent additional structural damage or damage from water and mold.  You can expect our technicians to repair the roof, as well as the resulting damage to the inside of your property, and we work with most major insurance companies to help handle your claim.
Our reconstruction roofing services include the following:
Roof tarping and stabilization
Shingle repair and replacement
Leak repair and prevention
Structural damage repair
If the roofing of your residential or commercial building is leaking or damaged, give our professionals at RestorationMaster a call right away.  Our fast response will limit the damage to your roof and allow us to get your property restored as quickly as possible.  You can reach us at (470) 458-3664 for emergency reconstruction roofing in Peachtree City, GA.
---
Related Residential and Commercial Roofing Services: