RCM Restoration Services
A fire can begin and spread within a home or building very quickly, and the damage it causes within just the first few minutes can be life changing.  The flames of the fire can tear through most structural elements and building materials and the smoke and soot created by the fire can spread even further and cause damage to the affected objects and surfaces.  As soon as the fire department extinguishes the fire and clears your property, you must call a professional to begin the restoration process.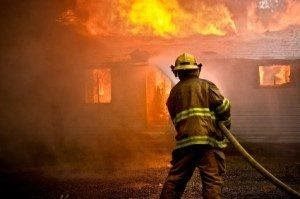 RCM Restoration Services provides complete fire and smoke damage restoration services in Peachtree City, Georgia to help homes and commercial properties damaged by a fire.  We will arrive at your property quickly to fully assess the damage and form a restoration plan that includes everything from cleanup and deodorization to reconstruction.
Emergency Response to Fire Damage
After a fire is put out, it is still possible for your property to experience further damage due to instability or the effects of corrosive byproducts like smoke and soot.  This is why our licensed technicians at RCM Restoration Services are available 24 hours a day to answer emergency calls for fire damage in the Peachtree City, GA area.  We begin work immediately upon arrival by evaluating the damage and providing emergency board-ups and roof tarping if needed to secure the building.
We completely restore homes and commercial properties that have been affected by the following types of fires:
Chemical, oil, or combustible material fires
Grease or kitchen fires in homes and restaurants
Electrical fires in homes and commercial buildings
Fire Damage Restoration and Cleanup Process
Immediately after the fire is extinguished, your home or building will be a complete mess with burnt or melted materials, debris, and soot spread throughout the property.  After your home or building has been effectively secured, we will start the cleanup and restoration process by removing damaged materials and determining what can and cannot be restored.
Our technicians can effectively identify and handle materials that have been melted, burned, or tarnished by the smoke and soot.  Materials that cannot be saved will be discarded while items that can be salvaged will be set aside for cleaning.
Our fire damage restoration process includes the following steps:
Evaluation: Our technicians will evaluate your property to discover the full extent of the damage and form a restoration plan.
Structural Stabilization and Repair: We can immediately board up and stabilize the structural damage to your home or building to prevent further damage until we can do the repairs.
Content Cleaning and Restoration: We can restore a range of objects that have been damaged by smoke or soot including furniture, artwork, photos, documents, and electronic devices. The faster we respond and begin the restoration of your damaged content, the better the chance that your items can be fully salvaged.
Soot Removal: Soot is a byproduct of fire and smoke that can spread long after the fire has been put out. Soot is acidic and causes damage to affected objects and materials such as discoloration and etching which will become permanent without quick cleaning.  The presence of soot also creates a hazardous environment which is dangerous to your health.  We treat soot damaged materials using advanced cleaning products and techniques to restore them and save them from permanent damage.
Smoke Odor Removal: In addition to the soot and residue smoke creates, it also leaves behind a distinct foul odor. The odor from smoke can spread through the entire property and get absorbed by textiles, wood, and other porous materials.  We can remove smoke odors effectively using advanced deodorization techniques.
Professional Fire Damage Restoration
As soon as a fire has been put out on your property, make sure you call our professionals at RCM Restoration Services to begin the fire damage restoration process.  We will assess the damage to your property and ensure that your home or building is completely restored.
Contact Us
Give RCM Restoration Services a call at (678) 809-7788 for emergency fire damage restoration services in Peachtree City, GA.
---
Related fire restoration services:
Fire Restoration in Ellenwood, GA
Fire Damage Restoration in McDonough, GA
---
Recent Reviews
---
Review by

C. B.
Rating

"Great group of people to do business with. I have worked with RCM on several projects and my experiences are always positive. Very well set up to accommodate any of your restoration needs. Highly recommend!"
---
Review by

C.H.I.
Rating

"This is an amazing company!!. They sincerely care about their clients. Rod and his team do a phenomenal job of restoring your home and business to it's original look! Fire and flooding is devastating but having someone like this company to help you get back to normal makes all the difference. Put this company on your contact list under favorites!! They get a A+++++ rating from me! Thank you RCM Restoration for your outstanding customer service and work ethic!!"
---
Review by

I. C.
Rating

"The people working at RCM are very nice. They did a great job on my mold mitigation. The only thing I did not like is the machinery that had to be used to fix the issue rose the temp in my house by 15 degrees in the summer."
---