RCM Restoration Services
Water can cause major damage in your home or business. Whether the extra water originates from natural disasters such as flooding or leaky appliances, burst pipes, or sewage backups, it can cause structural damage to your property. Water can also absorb into porous materials and surfaces, damaging them and even causing the growth of mold.
RCM Restoration Services provides water and flood damage restoration services to homes and businesses in Clayton County, GA, including Ellenwood, Riverdale, College Park, GA. Our technicians are IICRC certified and experienced in remediating various water damage situations in residential and commercial settings. By using our hi-tech equipment and technology, we dry out the moist areas, repair, and restore them to their original state.
Emergency Water Damage Restoration Services in Clayton County, GA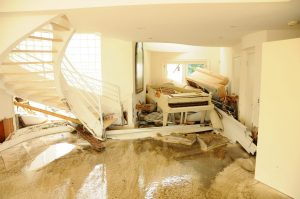 Water can spread through your property amazingly fast and cause major damage. Therefore, every call from our customers is taken seriously by our professionals. We arrive at your property quickly to start our restoration work. Extra water at your property needs to be addressed within the first 24-48 hours, as this is when the most damage and even mold can appear. After you call our professionals, we will start our drying, cleaning, and restoration process to prevent future damage.
We are available 24/7 for emergency water damage restoration needs, and offer the following services:
Emergency water extraction
Water mitigation
Dehumidification and moisture control
Storm disasters and flooding
Water Damage Cleanup and Restoration Process
Extra water at your property is extremely dangerous as it can cause damage to various materials and surfaces. When water absorbs into furnishings, carpets, wood, and other types of porous materials, it and can cause them to rot, corrode, or break and can even cause structural damage to your property. If you contact us immediately, we can start the drying, cleaning, and restoration of your property to prevent further damage.
Our water damage cleanup process consists of the following steps:
Evaluation: First, we evaluate the damage to your property and work with you to create a plan for restoration.
Drying: We get rid of standing water with our hi-tec equipment, dehumidify the space, and dry any damaged materials.
Dry and Clean Content: We evaluate all the contents of your home or business and then let you know if they can be cleaned and restored. Our team can dry and restore damaged items on-site. We also use advanced drying methods to ensure all moisture is extracted from your home or business.
Dehumidification and Moisture Control: We remove moisture from the air as well as materials that have gotten wet. We use hi-tech dehumidification equipment and methods to ensure all moisture is gone, as we want to ensure that no mold growth appears in the future.
Deodorization: We remove any lingering unpleasant odors by using our special deodorization methods.
Flood Damage Restoration
Standing water can damage your property quickly, therefore it needs to be addressed immediately. If you are facing a flood that contains the water from the outside, it is highly likely that it is contaminated. Flood water will damage any porous surfaces or materials, and if it contains contaminated water, it can also be harmful for your health. Our highly trained technicians at RCM Restoration Services can help with all your indoor flooding needs. We will get rid of flood water and ensure that no further damage is caused, such as structural damage or mold growth.
We offer flood damage restoration services for the following causes:
Natural Floods: Natural floods can be caused by heavy rains, overflowing rivers, or excessive ground water. We will remove the flood water and clean and restore the affected areas.
Non-Natural Indoor Flooding:  This type of flooding includes appliance leaks, burst pipes, and sewage backups. Indoor flooding can cause damage to the structure of a building and to the plumbing and electrical system. Our skilled technicians will get rid of the water and repair and restore the affected materials.
Sewage Backups: For this type of flood, it is crucial that you reach out to our professionals right away so that we can use the right equipment and methods to remove the contaminated water and thoroughly clean the affected areas. This will ensure that the contaminated water does not harm your health.
If your home or a business is affected by flooding or water damage, make sure to reach out to our certified professionals at RCM Restoration Services. We are experts in getting rid of extra water by drying it out, cleaning, and restoring your property. We will also work with your insurance company to process your claim.
Emergency Response
Call us at  (678) 809-7788 for emergency water damage restoration services in Clayton County, GA.
---
Related Water Damage Restoration Services:
---
Recent Reviews
---
Review by

C. B.
Rating

"Great group of people to do business with. I have worked with RCM on several projects and my experiences are always positive. Very well set up to accommodate any of your restoration needs. Highly recommend!"
---
Review by

C.H.I.
Rating

"This is an amazing company!!. They sincerely care about their clients. Rod and his team do a phenomenal job of restoring your home and business to it's original look! Fire and flooding is devastating but having someone like this company to help you get back to normal makes all the difference. Put this company on your contact list under favorites!! They get a A+++++ rating from me! Thank you RCM Restoration for your outstanding customer service and work ethic!!"
---
Review by

I. C.
Rating

"The people working at RCM are very nice. They did a great job on my mold mitigation. The only thing I did not like is the machinery that had to be used to fix the issue rose the temp in my house by 15 degrees in the summer."
---