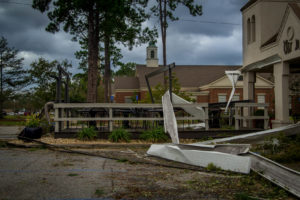 Natural disasters happen frequently in the South.  Here at Duraclean Cleaning and Restoration, we understand the severity of a natural disaster.  Hurricanes, tornadoes, and earthquakes can cause extensive damage to homes and businesses.  The cleanup costs can reach hundreds to millions of dollars depending on the size of the disaster.
Here at Duraclean Cleaning and Restoration we have been providing expert disaster restoration and storm cleanup services to residential and commercial properties throughout the metro Atlanta, GA area since 1996. Our 24 hour emergency response team services areas that include Cobb, Cherokee, Polk, Paulding, Haralson, Gordon, Murray, Whitfield, Catoosa, Walker and Dade Counties.
We understand what it takes to recover from a catastrophe. We pride ourselves in helping our community and surrounding states. In the recent past, we have worked with the community during:
Hurricane Jeanne in 2004, Ivan in 2004, Francis in 2004, Katrina in 2005, Rita in 2005, Wilma in 2005, Dolly in 2008, Gustav in 2008, Ike in 2008, tropical storm Fay in 2008, and Super Storm Sandy in 2013. We have also worked with national flooding, including Daytona, FL in 2009 and Atlanta, GA in 2009, Atlanta, GA in 2009, and Chicago, IL in 2013.
If you are a victim of a natural disaster or need assistance with a storm cleanup in Atlanta GA and the surrounding areas, call Duraclean Cleaning and Restoration at 770-679-2299 .
---
Recent Reviews
Review by

Rayandra Slonina
Rating

"Duraclean is thorough, professional and prompt. Most recently, they cleaned my sectional sofa. Justin was meticulous and gave me additional suggestions on how to spot clean (I have 4 dogs). The sofa looks and smells great. I highly recommend them!"
---
Review by

Heather Flowers
Rating

"Duraclean and Justin did an excellent job on my carpet cleaning! The carpet looks practically new. Justin is very professional and provides great customer service. He was on time, very friendly , and provided great tips for any future stains. I would definitely use Duraclean for any future services."
---
Review by

John Brooks
Rating

"Justin provided one of the best experiences I've ever had with tile and grout cleaning. Justin went above and beyond to make sure everything was perfect. I will for sure be using Duraclean anytime i meed my floors done."
More Reviews