Hardwood floors are among the most visually appealing floor options available and with the proper maintenance; they can last for quite some time. However, even with the best care it can still be difficult to protect floors from scratches or damage caused by excessive moisture. Duraclean Cleaning and Restoration provides hardwood floor restoration services to Atlanta, GA and the surrounding communities. Our emergency response team is on call 24 hours a day to quickly respond to any flooring restoration needs.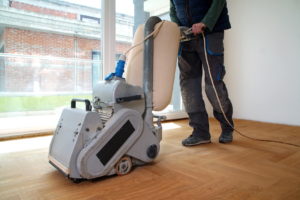 Hardwood floor restoration is an ideal option for repairing damaged floors as well as revitalizing worn out floors. The floor restoration services offered by Duraclean Cleaning and Restoration include wood panel repair, custom match patching, inlays, and wood staining among others. Our staff is trained to restore all hardwood floors safely and effectively and we can locate replacement floor panels to match the panels of the floor in your home.
In addition to these restoration services, Duraclean Cleaning and Restoration also provides water removal services for hardwood floors that have been exposed to excessive moisture or water. Too much moisture can be very damaging to hardwood floors, especially if it is not removed right away, so it is important to act quickly if your floors have sustained water damage. Our staff can remove water completely from hardwood floors using special drying equipment in an efficient and timely manner to prevent warping and other damage.
Hardwood floors are an investment that can add value to your home for many years if they are properly maintained and Duraclean Cleaning and Restoration provides hardwood floor restoration services to restore worn out or damaged floors.
If your floor sustains water damage, be sure to contact us immediately at (770) 679-2299 because the longer this is ignored, the more damage the floor will suffer. We are on call 24 hours a day to respond to hardwood flooring restoration needs in Atlanta, GA.
---
Recent Reviews
Review by

Rayandra Slonina
Rating

"Duraclean is thorough, professional and prompt. Most recently, they cleaned my sectional sofa. Justin was meticulous and gave me additional suggestions on how to spot clean (I have 4 dogs). The sofa looks and smells great. I highly recommend them!"
---
Review by

Heather Flowers
Rating

"Duraclean and Justin did an excellent job on my carpet cleaning! The carpet looks practically new. Justin is very professional and provides great customer service. He was on time, very friendly , and provided great tips for any future stains. I would definitely use Duraclean for any future services."
---
Review by

John Brooks
Rating

"Justin provided one of the best experiences I've ever had with tile and grout cleaning. Justin went above and beyond to make sure everything was perfect. I will for sure be using Duraclean anytime i meed my floors done."
More Reviews