Duraclean Cleaning and Restoration is emerging as a leader in commercial building restoration. They take great pride in getting commercial customers back in business as soon as possible therefore they have dedicated substantial resources on standby 24/7 for that specific purpose. Their commercial readiness includes a fleet of large box trucks fully stocked with industrial drying equipment and supplies, desiccant dehumidifiers and generators. They're ready to respond!
Commercial Carpet Cleaning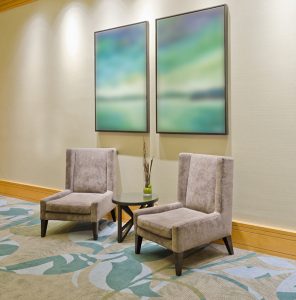 Duraclean Cleaning and Restoration has been growing steadily each year, expanding in 2004 to include Duraclean Cleaning and Restoration Downtown Commercial, serving the city of Atlanta, Bartow and Cherokee counties in the commercial market.
Commercial carpet receives many times the traffic of typical residential carpet. That's why it's important to select (fiber, construction, pile design, color) and install commercial carpet that fits a building user's needs. However, once that carpet is properly selected and installed, its durability and lasting beauty is highly dependent on the ongoing maintenance and cleaning programs.
Duraclean Cleaning and Restoration has the equipment, training and experience not only to professionally clean but also to restore the color and beauty of commercial carpet, while improving overall indoor environmental quality in the building.
For commercial carpet cleaning and restoration services in Atlanta GA, call Duraclean Cleaning and Restoration at (770) 679-2299.
---
Recent Reviews
Review by

Rayandra Slonina
Rating

"Duraclean is thorough, professional and prompt. Most recently, they cleaned my sectional sofa. Justin was meticulous and gave me additional suggestions on how to spot clean (I have 4 dogs). The sofa looks and smells great. I highly recommend them!"
---
Review by

Heather Flowers
Rating

"Duraclean and Justin did an excellent job on my carpet cleaning! The carpet looks practically new. Justin is very professional and provides great customer service. He was on time, very friendly , and provided great tips for any future stains. I would definitely use Duraclean for any future services."
---
Review by

John Brooks
Rating

"Justin provided one of the best experiences I've ever had with tile and grout cleaning. Justin went above and beyond to make sure everything was perfect. I will for sure be using Duraclean anytime i meed my floors done."
More Reviews