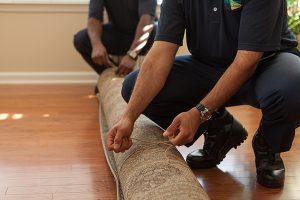 If you run a business, you understand the importance of keeping your office, store, or facility clean and well maintained. Your visitors and customers will notice if the building is dirty which can cause them to get the wrong impression of your business. Keeping your office or building in top shape starts with the carpet because commercial carpeting gets dirty quickly, and visitors will immediately notice if it is dirty or stained. ServiceMaster Cleaning & Restoration provides commercial carpet cleaning services to clean and maintain carpeting for businesses in Marietta, GA. We use advanced cleaning products and methods to remove dirt and stains from commercial carpeting and restore its original color and texture.
Why Commercial Carpet Cleaning
Carpeting in commercial buildings experiences heavy foot traffic each day which leads to general wear and tear as well as a buildup of dirt and debris in the fibers. As the debris accumulates, the carpet will become discolored and if the debris is not removed, the carpet fibers will begin to deteriorate. Allowing the carpet to get dirty will not only affect the appearance and cleanliness of your building, but also shorten the life of the carpet, forcing your company to replace it. Vacuuming the carpet regularly will help reduce the debris buildup, but only our professional carpet cleaning methods will remove the deepest dirt from the carpeting.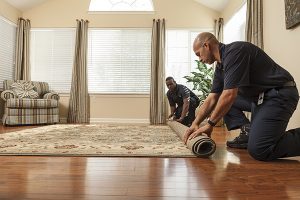 At ServiceMaster Cleaning & Restoration, our technicians are trained and equipped to effectively deep clean all types of carpeting found in commercial buildings. We use advanced stain removers to treat spots and stains, and administer the hot water extraction cleaning method with our truck mounted cleaning equipment. You can call us for a one-time cleaning for your business, and you can also schedule regular cleanings with us to ensure that your carpet stays in top shape.
You can expect the following from our commercial carpet cleaning services:
Evaluation and Vacuuming: We will evaluate the carpet and vacuum it to remove loose dirt and debris.
Spot and Stain Treatment: All spots and stains are treated with our powerful stain removers.
Hot Water Extraction: We clean the entire carpet with the hot water extraction method. A solution of hot water and mild detergent is applied to the carpet to loosen soil deep within the fibers, and the solution is extracted back out with the dirt and debris.
Final Inspection: We will inspect the carpet with you after the cleaning to ensure that you are satisfied with the results.
If the carpeting in your office or building in Marietta, GA is looking dull or worn out, give us a call for professional carpet cleaning services. We can safely and effectively clean all types of carpeting and our cleaning process has a quick drying time so you can use the carpet within 24 hours. You can call us at (770) 679-2299 to schedule a carpet cleaning appointment.
Recent Reviews
Review by

S.R..
Rating

"You were quick and in contact with me in a short time frame to let me know that you would be helping me and on the way to arrive at around a certain time.
---
Review by

B.H.
Rating

" I was pleased with how much better the air smelled after ozone fans, cleaning, etc. People were friendly. I would use Service Master again. Thank you."
---
Review by

B.S.
Rating

"The tech was very knowledgeable and professional. They worked very quickly with little to no interruption wo our daily life. Very impressed with the Josh my service tech.."