Water damage is the most common type of damage to occur in a home or building because it can be caused by many different sources at virtually any time.  Wet weather conditions like rain and flooding often lead to indoor water damage, but it can also be caused by factors inside your home like overflows, burst pipes, leaks, and sewage backups.  Once water damage occurs, you must act fast because the water will continue to spread through absorbent building materials which will greatly increase the damage.  ServiceMaster of the Shore Area provides professional water damage restoration services for homes and businesses in Manasquan and Brick, NJ that have sustained damage from excess water or flooding.  Our technicians will remove the water and moisture with our advanced equipment and take measures to prevent mold and corrosion.
Water Damage Cleanup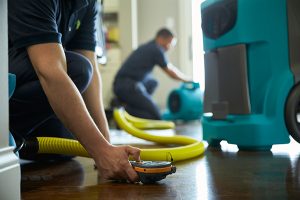 When water enters a home or building, it gradually gets absorbed into building materials like sheetrock, flooring, wood, and substructures.  As the water spreads through these materials, it can cause damage such as swelling, warping, and breaking of adhesive bonds which can lead to very serious structural damage.  Even a small leak can eventually penetrate the affected materials deep enough to cause considerable damage.  Any hesitation to deal with the water damage will not only allow the water to spread further, but also increase the risk of mold growth.  The presence of mold will make the damage much worse and introduce serious health risks to the situation.  It is important for water to be removed from a home or building before it has a chance to spread through porous building materials.
The technicians of ServiceMaster of the Shore Area are trained and certified to provide effective water damage restoration using the top water extraction and drying equipment available.  We understand how easily water damage can turn into a major issue which is why we provide emergency response 24 hours a day.
Our water damage restoration services are broken down into the following phases:
Emergency Service: Our technicians will arrive as soon as possible to contain the excess water and assess the damage. As part of our assessment we will determine what damaged materials should be removed and which materials, including the carpeting, can be dried in place.  We will then extract the water and set up dehumidifiers and air movers to dry the flooring, furniture, structural elements, and other affected materials.  Our technicians will remove materials that are damaged beyond repair.
Reinstallation and Cleaning: After the drying process, we will thoroughly clean the affected areas to help prevent mold growth, corrosion, and other common effects of water damage. During the cleaning, we may need to move furniture and even carpeting to clean more thoroughly.  We will reinstall the carpeting and move the furniture back to its original place when the cleaning is done.
Structural Repairs: If your home or building has sustained structural damage from the water, we will assess the damage and begin repairs after the drying and cleaning process is complete. We provide complete reconstruction to repair flooring drywall, ceilings, and other structural elements that have been damaged.
If excess water has gotten into your home or building due to weather conditions or an internal factor, make sure you call our professionals before it spreads deeper into the building materials.  Our technicians at ServiceMaster of the Shore Area provide effective water damage restoration services in Brick and Manasquan, NJ to remove excess water or moisture and protect your home or building from serious damage.   You can call us any time 24 hours a day at (732) 722-5858 for water damage emergencies.
---
Related Water Damage Restoration Services
Water Damage Restoration in Ocean City and Egg Harbor Township, NJ
Water Damage Restoration in Middletown, NJ
Water Damage Restoration in Toms River, NJ
Water Damage Restoration in Wildwood, NJ 
---
Recent Reviews
Review by

J.S. Columbus, NJ
for
ServiceMaster of the Shore Area
Rating

I called Service Master when my parents had a pipe break and it flooded the 1st floor of their home. They showed up quickly. have been very professional and are doing a great job!
---
Review by

J.S.A. Brick, NJ
for
ServiceMaster of the Shore Area
Rating

Friendly workers who were very polite.
---
Review by

D.R. Toms River, NJ
for
ServiceMaster of the Shore Area
Rating

ServiceMaster checked on the area of water spill every day until the area was dry.
---
More Reviews