RestorationMaster
While it may be an unlikely occurrence, it is very important to know what to do if a death or major injury from an accident or violent crime occurs on your property.  The sight of the scene can be overwhelming and also very dangerous if there are biohazard materials present like blood and bodily fluids.  You must call 911 as soon as you find the scene, as well as a professional licensed to cleanup biohazard materials.  RestorationMaster provides biohazard cleaning services in Manasquan, NJ to safely clean up all types of biohazard materials, including blood and bodily fluids found at trauma scenes.  Our technicians are properly trained and equipped to remove biohazard materials and thoroughly clean and disinfect the affected areas.
Trauma and Crime Scene Cleaning
It is very important to approach any type of trauma or crime scene with extreme caution.  These scenes normally contain biohazard materials like blood and bodily fluids and these materials are potentially infectious.  Biohazard materials may contain viruses, bacteria, and other harmful substances that will spread disease and infection if they are mishandled.  Neither law enforcement nor EMTs can clean up biohazard materials from your property, which is why you must call a trained and licensed professional like RestorationMaster.
Our technicians are prepared to respond to any situation involving biohazard materials, including trauma and crime scenes.  We use state of the art cleaning products and disinfectants to restore the area as well as personal protective equipment (PPE) to prevent cross contamination.  If the tragedy is the result of a crime, our technicians will cooperate with the officials conducting the crime scene investigation.
You can expect the following steps with our biohazard cleaning services:
Decontamination: Our technicians will completely remove biohazard materials and thoroughly clean and disinfect the scene so that it is safe.
Proper Disposal: We take biohazard materials to a medical waste facility that can dispose of them properly.
Odor Removal: Our odor removal methods can remove lingering unpleasant odors.
Continuous Monitoring: We work diligently to get the scene back to its normal state and we help protect your privacy by arriving in unmarked vehicles.
Family Assistance and Support: Situations involving a major injury or death are very difficult to handle. Our technicians are sensitive to these feelings and show compassion and respect to those who are grieving.  We can also recommend a counseling professional to anyone who needs help coping.
Certified Technicians: The technicians of RestorationMaster are certified, well equipped, and compassionate in our approach to biohazard cleaning. We will complete the job while following local and state government regulations.
Contact Us for Biohazard Cleanup on Manasquan, NJ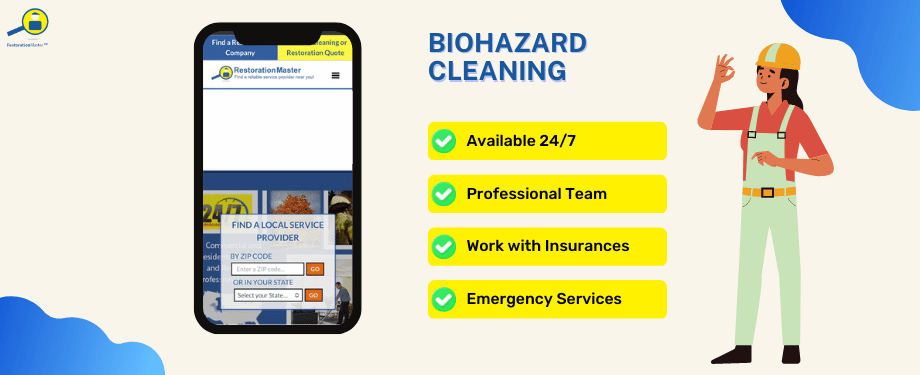 In the event of a serious accident or violent crime, your first call should be to 911 to alert emergency responders.  Once you have alerted the proper authorities, contact RestorationMaster to provide safe and effective biohazard cleaning services and restore the scene to its original condition.  You can reach us 24 hours a day at (732) 338-2454 for emergency biohazard cleaning in Manasquan, NJ.
---
Related Biohazard and Trauma Scene Cleaning Services
Biohazard and Trauma Scene Cleaning in Ocean City and Egg Harbor Township, NJ
Biohazard and Trauma Scene Cleaning in Wildwood, NJ
Trauma Cleaning Services in East Windsor, NJ
Crime Scene Cleaning Experts in Trenton, NJ
Biohazard Cleaning Team in West Windsor, NJ
Crime Scene Cleaner in  Hamilton Township, NJ
Trauma Cleaning Services in Princeton, NJ
---
Related Biohazard Cleanup Cleanup Tips and Information
Tips for Removing Blood Stains from Your Carpet
Don't worry if you have a blood stain on your carpet—it is possible to remove most stains. The key is to act quickly, as it won't be easy to completely get rid of the stain once it has dried. However, there are products that can help lift stains and keep your carpet color looking bright.