ServiceMaster of the Shore Area
You want people to feel comfortable and welcome when they enter your business, just like when they enter your home. Customers and employees alike prefer to be in places that are clean, sanitary, fresh smelling and safe. You may have the finest product in your industry, but if your offices are dirty and disorganized all the time, nobody is going to want to work there and nobody is going to want to buy your product.
ServiceMaster of the Shore Area offers a wide variety of commercial cleaning services in Manasquan, NJ to keep offices and workspaces clean and protect the health and safety of everyone who enters. Dust and dirt accumulations aren't just ugly to look at; they irritate lungs, eyes, and noses and make allergy sufferers even more miserable. We provide one-time cleaning services, or we can work with you to develop a regular cleaning schedule that will keep your commercial space in top condition at all times.
Commercial Carpet and Floor Cleaning
The carpet and flooring are one of the first things people notice about your business. If the floors are dirty, smelly, or worn, people will form a poor impression of your company. You don't want them to think you don't care about details or the overall quality of work. When the floors and carpets are fresh and clean, they don't attract unwanted attention, yet add to the overall positive impression of the business.
ServiceMaster of the Shore Area provides high quality floor and carpet cleaning services for a wide variety of commercial settings. We use only the most effective cleaning products and equipment available to the industry to remove deeply imbedded dirt, odors, and stains, and restore your floors to their original beauty.
ServiceMaster of the Shore Area's full line of commercial floor cleaning services include:
Carpets
Hardwood
Tile and grout
Area rugs
Laminate
Cement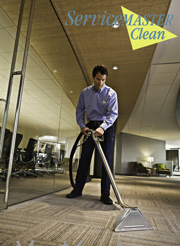 Hot Water Extraction Method
We use the hot water extraction method to remove tough stains and dirt from carpets and upholstery. A mild, but very effective detergent is mixed with hot water and applied directly to carpets or upholstery using a specialized cleaning wand. The solution loosens dirt deep down in the carpet while sanitizing the fibers. The cleaning wand removes all traces of the cleaning solution, as well as the loosened dirt and debris, and deposits it into a truck-mounted holding tank that's emptied off-site. Your carpets and upholstery are dry with no residue within 24 hours.
Contact Us for Commercial Carpet Cleaning in Manasquan, NJ
Keeping a clean workplace is vital to both the image of your business and the health and happiness of your employees. Many companies don't have a staff to clean the building themselves, and asking your employees to clean up takes them away from doing the work that makes money for the company. ServiceMaster of the Shore Area can provide one time or ongoing commercial cleaning services for businesses in Manasquan, NJ. Call us at (732) 722-5858 for quality commercial cleaning or to schedule a consultation.
---
Related Commercial Cleaning Services
Commercial Cleaning in Ocean City and Egg Harbor Township, NJ
Commercial Cleaning in Middletown, NJ
Commercial Cleaning in Toms River, NJ
Commercial Cleaning in Wildwood, NJ
---
Recent Reviews
Review by

J.S. Columbus, NJ
for
ServiceMaster of the Shore Area
Rating

I called Service Master when my parents had a pipe break and it flooded the 1st floor of their home. They showed up quickly. have been very professional and are doing a great job!
---
Review by

J.S.A. Brick, NJ
for
ServiceMaster of the Shore Area
Rating

Friendly workers who were very polite.
---
Review by

D.R. Toms River, NJ
for
ServiceMaster of the Shore Area
Rating

ServiceMaster checked on the area of water spill every day until the area was dry.
---
More Reviews