RestorationMaster
When a major disaster strikes, experiencing damage to your home and personal belongings is almost inevitable. However, there are instances in which a disaster like a storm, flood, fire, accident, or even mold growth will cause deep structural damage that can leave a home or building very dangerous to inhabit. When this happens, the structure must be secured before it sustains further damage or collapses. RestorationMaster provides complete reconstruction services as part of our disaster restoration to rebuild homes and businesses in Manasquan, NJ that have sustained serious structural damage. Our skilled crew will immediately stabilize the home or building and form a complete reconstruction plan after assessing the damage.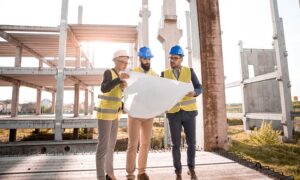 Experiencing serious damage to your home or building is never easy because it may be out of use for days or even weeks while you wait for the repairs to be done. It is also possible to be overwhelmed by the scope of the damage and feel a sense of helplessness about what to do next. Calling our professionals at RestorationMaster at (732) 338-2454 is a good first step towards putting your mind at ease. You can trust our highly-trained reconstruction professionals to handle every step of the reconstruction process from the stabilization and planning stages through to completion. Our crew includes carpenters, handymen, and subcontractors as well as a project manager that will explain the reconstruction process to you and provide you with updates. You can also approach the project manager at any time with your questions or concerns.
The reconstruction services we provide cover the following:
Building stabilization
Consultation and design
Permits and licenses
Full service general contracting
Remodeling
Carpentry, framing, and custom woodwork
Plumbing and electrical work
Architectural reports and blueprints
Wallpapering
Roof repair
Painting and staining
Window treatments
Contact Us for Reconstruction Services in Manasquan, NJ
Contact RestorationMaster if your home or business in Manasquan, NJ has sustained deep structural damage. Our technicians will immediately secure the building and create a thorough reconstruction plan to get your home or business back to its pre-disaster state. You can reach us 24 hours a day at (732) 338-2454 if you need emergency stabilization or reconstruction services.
---
Related Construction Services
Reconstruction Services in Ocean City and Egg Harbor Township, NJ
Reconstruction Services in Wildwood, NJ