ServiceMaster of the Shore Area
Water can cause extensive damage to a home or building. However, if the water involved contains sewage, then the damage will be even worse. Whether the sewage water is the result of a backup, broken sewer line, or natural floodwater that has combined with sewage, the situation is dangerous. Sewage contains harmful toxins and waste materials which makes it a threat to people's health and well-being. If your property has sewage present, then keep your distance and seek professional help right away.
With our sewage backup cleaning services, ServiceMaster of the Shore Area can help homes and businesses in Brick, NJ, that have been damaged by sewage water. Using advanced equipment and cleaning products, our professional technicians will thoroughly remove sewage and clean and disinfect affected areas.
Dangers of Sewage in Brick, NJ
Sewage water can come from various sources, including the toilet, drainpipes, and the sewer drain. No matter the source, the water can be filled with bacteria and other harmful microorganisms. Because of this, you need to avoid contact with sewage water to prevent infection or disease.
Additionally, sewage water will cause severe property damage. When porous building materials and furnishings absorb the sewage water, they also absorb the waste materials from the sewage which can lead to permanent damage.
Knowing this, call for professional help right away when you notice sewage-contaminated water in yo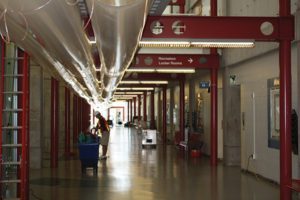 ur home or business.
Follow these steps in the aftermath of sewage water damage to limit the damage and protect yourself:
Immediately call professionals for help once you discover sewage in your home or business.
Refrain from coming into contact with the sewage-contaminated water.
Stop the water source if possible.
Avoid going to contaminated areas.
Professional Sewage Cleaning in Brick, NJ
At ServiceMaster of the Shore Area, our professional technicians are properly equipped and experienced to provide sewage backup cleaning services. We will thoroughly remove all sewage water, restore affected areas, and disinfect the property.
The following steps are included within our sewage backup cleaning services:
Emergency Response: We will quickly come to your property to contain the damage and remove the sewage water.
Damage Assessment: Our professional technicians assess the damage, using the information to develop a proper restoration plan.
Complete Restoration: Using advanced water extraction and drying equipment, our technicians will remove the contaminated water from your property. Then we make repairs or remove the damaged materials. We also thoroughly clean and restore the property.
Work with Insurance: We will work on the claim with your insurance provider.
Sewage Cleanup in Brick, NJ
Immediately call ServiceMaster of the Shore Area if you need prompt sewage cleaning services. Our technicians will work efficiently to have the sewage water removed and to get your property restored to a clean, safe environment.
Call (732) 722-5858, where we are available 24/7, to inquire about our sewage backup cleaning services in Brick, NJ.
---
Recent Reviews
Review by

J.S. Columbus, NJ
for
ServiceMaster of the Shore Area
Rating

I called Service Master when my parents had a pipe break and it flooded the 1st floor of their home. They showed up quickly. have been very professional and are doing a great job!
---
Review by

J.S.A. Brick, NJ
for
ServiceMaster of the Shore Area
Rating

Friendly workers who were very polite.
---
Review by

D.R. Toms River, NJ
for
ServiceMaster of the Shore Area
Rating

ServiceMaster checked on the area of water spill every day until the area was dry.
---