The damage caused by a fire's flames is obvious, but what's less obvious is the damage that the fire's byproducts of smoke and soot can cause. These byproducts don't become as obvious until the fire has been extinguished. When there's a fire, the high temperature leads to a chemical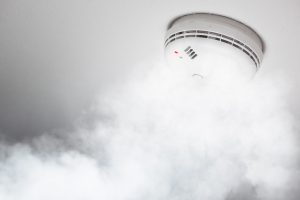 reaction with the burned materials that then leads to the creation of corrosive, toxic residue, smoke, and soot.
Once the fire is out, these substances spread throughout the property, settling into different materials and objects. However, it doesn't take a fire for these substances to be spread throughout a property. Smoke and soot can damage your home as a result of candles, cooking, and fireplace use.
At RestorationMaster, we provide smoke and odor removal services to Downers Grove, IL, and the surrounding areas. With our services, we will eliminate smoke odors and clean up the resulting damage. Our technicians have the necessary equipment and cleaning supplies to properly clean and restore items and building materials harmed by smoke and soot. Additionally, our technicians have all undergone a thorough background check, so you can trust them to be in your home, providing quality restoration services.
Smoke Damage
Smoke and soot are sometimes more damaging than the actual fire because of their ability to spread and harm areas that were unaffected by the fire itself. Smoke and soot are corrosive, so they are damaging to a lot of objects and materials. They can cause discoloration and etching among other effects.
This damage will likely become permanent if the damaged materials aren't cleaned within 72 hours of the initial damage, which makes it essential for cleaning to be done immediately.
We are prepared to conduct smoke and soot cleaning and restoration on practically any damaged objects and building materials. To do our work, we utilize specialized chemical cleaners that eliminate the damage that smoke and soot can cause, safely restoring the objects to their original condition.
Odor Removal

While soot and residue are concerning aftereffects of a fire, smoke odor also has a damaging effect to be concerned about. Smoke odors are absorbed by building materials and objects, so the smell lingers throughout your property. This makes it tough for the smoke odors to be removed using do-it-yourself techniques.
We extract smoke odors from building materials and other affected objects by using specialized deodorization techniques. Once the odor has been eliminated, we make sure your property remains free of odors.
It can be tough to decide whether to involve your insurance in these situations, but we will advise you on whether to involve your insurance provider or not. In the event that you are filing a claim for the damage, we will directly bill your insurance company. We will also help keep out of pocket costs low with our price match guarantee that applies to non-covered claims.  We will match or beat estimates from other professionals that adhere to the IICRC's standard of care.
Available 24/7
When smoke and/or soot have caused damage to your property, you should always get professional help as soon as possible. No matter what the smoke and soot are from, RestorationMaster can help. Call us at (708) 571-2550 for the smoke and odor removal services we provide in Downers Grove, IL.
---
Related Fire Damage Restoration Services
Fire Damage Restoration Darien, IL
Fire Restoration Bridgeview, IL
Fire Damage Restoration Services Burr Ridge, IL
Fire Restoration Services Oak Park, IL
Fire Damage Repair Oak Brook, IL
Fire Restoration Services Downer's Grove, IL
Fire Damage Repair Hickory Hills, IL
Fire Damage Restoration Services Orland Park, IL
Fire Restoration Company Tinley Park, IL
Fire Damage Repair Services Berwyn, IL
Fire Restoration Company Oak Lawn, IL