ServiceMaster of Woodbridge
It is very difficult to find the scene of a violent crime or accident on your property.  These situations are traumatic, and the scene can be extremely dangerous, especially if there are bodily fluids, blood, and other biohazard materials on the scene.  The best thing you can do if you encounter such a scene is to stay clear of the area and call law enforcement and EMTs.  Once they arrive on the scene, you will need to call a professional trauma cleanup crew to safely clean and restore the scene.
At ServiceMaster of Woodbridge, we provide biohazard and trauma scene cleaning services in Woodbridge, VA and the surrounding areas.  Our disaster restoration professionals are trained and equipped to safely remove biohazard materials and thoroughly clean and disinfect the scene to restore it to a safe condition.  We can also work with law enforcement if a crime has been committed.
Why Trauma and Crime Scenes in Woodbridge, VA Are Dangerous
When a major injury or death occurs, the scene is most likely contaminated by blood and other bodily fluids.  These biohazard materials are extremely dangerous because they can contain viruses, bacteria, and other dangerous pathogens that can spread infection or disease when mishandled.
It is very important to avoid contact with biohazard materials and allow the biohazard cleanup professionals to clean them up safely.
When you first encounter the scene of an accident or violent crime, you need to call EMTs and law enforcement first to respond to the scene.  However, these professionals are not crime scene cleaners which is why you have to follow up by calling a biohazard cleanup company like ServiceMaster of Woodbridge.
As a disaster restoration company, we have the equipment and expertise to provide safe trauma cleanup. Our crime scene cleaners also work in cooperation with law enforcement to avoid compromising a crime scene.
Professional Trauma and Biohazard Cleanup in Woodbridge, VA
Our technicians at ServiceMaster of Woodbridge have received the necessary training to provide safe and effective cleaning of trauma scenes contaminated by biohazard materials.  We are IICRC certified and follow OSHA standards and use advanced cleaning products and disinfectants to ensure the scene is thoroughly cleaned and disinfected.  We also keep ourselves protected by using personal protective equipment.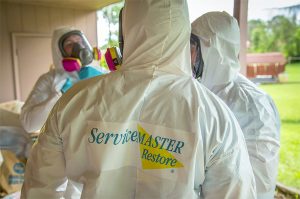 You can expect the following from our trauma and crime scene cleaning services in Woodbridge, VA:
We will safely remove all biohazard materials and transport them to a medical waste facility for proper disposal.
The entire area will be cleaned and disinfected using powerful cleaning products to restore the area to a safe condition.
We will protect your privacy and approach the situation with compassion and respect.
We will follow all local, state, and federal regulations.
Fast Response Crime Scene Cleaners in Woodbridge, VA
If you encounter a trauma or crime scene on your property in Woodbridge, VA, try to remain calm, stay clear of the scene, and make the proper phone calls.  We are available 24 hours a day at (540) 773-2083 to provide emergency trauma and crime scene cleaning services.
---
Related Biohazard and Crime Scene Cleaner Services:
Trauma cleanup and crime scene cleaners in Sterling, VA
Crime scene cleaners and biohazard cleanup in Stafford, VA
Biohazard cleaning and crime scene cleaners in Spotsylvania, VA
Biohazard cleanup and crime scene cleaners in Fredericksburg, VA
Biohazard cleanup services in Manassas, VA
Biohazard cleanup in Leesburg, VA
Biohazard cleanup and crime scene cleaners in Montclair, VA
Biohazard cleanup and crime scene cleaners in Marumsco, VA
See All Reviews