ServiceMaster of Greater Washington
What is worse than a flood of water in your home or business? Sewage water. Whether it is from natural flooding, burst sewer lines or a sewage backup, sewage water is dangerous to your health and your property. In these cases, a disaster restoration company is best suited to cleaning up the mess.
ServiceMaster of Greater Washington provides sewage cleanup services in Woodbridge, VA and surrounding areas. Our ServiceMaster sewage removal technicians are IICRC certified and equipped to remove sewage water and treat the area until restored to its original condition.
The Hazards of Sewage Backups in Woodbridge, VA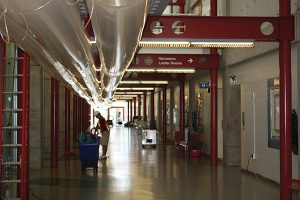 ServiceMaster of Greater Washington has been performing sewage cleanup in the Woodbridge, VA area since 1982. Whether the sewage came from a broken pipe or a backed up sewer drain, our teams are very familiar with the cleanup process and the hazards to look out for.
Even if the sewage water appears clear, it is important to keep your distance and contact a professional sewage backup cleanup service immediately.
Sewage water can contain waste materials that are toxic to your health. Bacteria and other organisms in the sewage water will negatively affect any who come in contact with it
A ServiceMaster water damage restoration professional, however, is trained and equipped to clean up sewage water safely and effectively. They are IICRC certified and use protective equipment when responding to your call for emergency sewage water removal.
If sewage is on your property, here is what to do while waiting for a sewage cleanup professional to arrive:
Upon first noticing the sewage, call us for emergency cleanup as soon as possible.
Keep your distance from the sewage water
Turn off the water source if possible
How the Sewage Cleanup Process Works in Woodbridge, VA
ServiceMaster of Greater Washington provides sewage removal in a way that is safe and effective. Our experience and expertise result in sewage cleanup methods that leave the property clean, safe, and properly treated.
The following steps are included as part of our sewage cleanup services in Woodbridge, VA:
Emergency response: Our sewage removal teams are on call 24/7 to respond to your call in the case of discovered flooding or sewage water on your property.
Damage Assessment: We will provide a thorough assessment of the damage caused by the sewage water, and work with your insurance every step of the way.
Complete restoration: Our sewage cleaning crew will use advanced water extraction and drying equipment to remove the sewage-contaminated water. The area will then be fully cleaned and disinfected.
Sewage Cleanup Done Right in Woodbridge, VA
As soon as you find sewage water on your property, call ServiceMaster of Greater Washington at (540) 773-2083 immediately for sewage cleanup services in Woodbridge, VA.
Our sewage backup cleanup teams are available 24/7 to respond to the scene as quickly as possible. We will extract the sewage water, clean and disinfect the area, and completely restore the property to a clean and safe condition.
---
Related Sewage Cleanup Services:
Sewage removal in Fredericksburg, VA
Sewage backup cleanup in Sterling, VA
Sewage removal in Stafford, VA
Sewage cleanup in Spotsylvania, VA
Sewage cleaning in Manassas, VA
See All Reviews