ServiceMaster of Greater Washington
Finding the scene of a serious accident or violent crime on your property can be emotionally difficult, to say the least. Not only are these scenes overwhelming, but they can be dangerous, especially when they contain blood, biohazards and other bodily fluids. The best action to take in this situation is to call the EMTs, law enforcement and a biohazard cleanup company to start an investigation and clean up the property.
ServiceMaster of Greater Washington is available in Stafford, VA and the surrounding areas to provide biohazard and trauma cleanup services for homes and buildings. Our disaster restoration technicians are each certified and trained to remove all biohazard materials while providing deep cleaning and disinfection to restore the area to its original condition. Our crime scene cleaners will also work around law enforcement to avoid disturbing an open investigation.
Dangers of Biohazards in Stafford, VA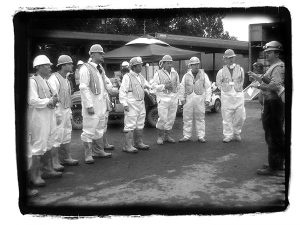 In the event of a violent death or serious injury, blood and bodily fluids are filled with dangerous bacteria, viruses and pathogens that can quickly spread infections and disease. This is why it's crucial to avoid contact and allow the professional biohazard teams to clean up the scene.
As soon as you encounter the scene, contact EMTs and law enforcement first. But a professional biohazard or crime scene cleanup crew must also be called as first responders are not responsible for the cleanup.
ServiceMaster of Greater Washington is fully qualified and experienced to handle these issues, using professional equipment and cleaning products to restore the biohazard or trauma scene. During an investigation, our crime scene cleaners will avoid any interruption to law enforcement.
Biohazard Cleanup in Stafford, VA
Our trauma cleanup technicians are well trained and use personal protective equipment (PPE) and advanced cleaning products to disinfect areas contaminated by biohazard materials. We work within OSHA and IICRC standards to ensure that all areas are effectively cleaned and disinfected.
Each of the following is included within our biohazard and crime scene cleaning services in Stafford, VA:
All biohazards are safely removed and delivered to a medical waste facility for proper disposal.
The area is disinfected and sanitized using professional cleaning agents to restore a safe and healthy property.
Your privacy will be protected while our professionals work with compassion and respect.
Our crime scene cleaner services meet all local, state and federal regulations.
Find Biohazard and Crime Scene Cleaners in Stafford, VA
Our trauma cleanup professionals are available 24/7 at (540) 773-2083 to provide biohazard and crime scene cleaning services in Stafford, VA and the surrounding areas.
Don't hesitate to give us a call as soon as you discover biohazards or a trauma scene on your property.
---
Related Biohazard and Crime Scene Cleaner Services
Trauma cleanup and crime scene cleaners in Woodbridge, VA
Crime scene cleaners and biohazard cleanup in Sterling, VA
Biohazard cleaning and crime scene cleaners in Spotsylvania, VA
Biohazard cleanup and crime scene cleaners in Fredericksburg, VA
Biohazard cleanup services in Manassas, VA
Biohazard cleanup in Leesburg, VA
Biohazard cleanup and crime scene cleaners in Montclair, VA
Biohazard cleanup and crime scene cleaners in Marumsco, VA
See All Reviews