(320) 227-3000
Mold growth is an unpleasant consequence of excess water that can cause property damage as well as a range of health problems. RestorationMaster provides mold remediation services to homes and businesses in Willmar, MN to completely remove mold growth and repair any property damage it caused. We can be reached 24 hours a day to respond quickly to mold removal and cleanup needs in the Willmar, MN area.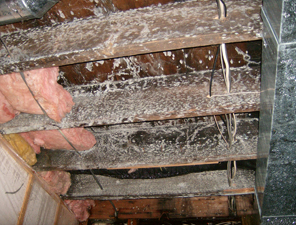 Because mold growth occurs as a result of water damage, our technicians begin the mold cleanup process by testing the extent of the property's exposure to moisture. These initial tests help us discover how long the property was exposed to moisture, how much moisture was absorbed, and how deeply the moisture has been absorbed. Once the moisture level is determined, we begin the mold removal process and work carefully to avoid contaminating other areas of the property. Our technicians use the best products, procedures, and equipment available to ensure that we can completely and effectively remove mold growth from your home.
Our mold removal process includes:
Finding and repairing the moisture source.
Cleaning or replacing surfaces with mold growth.
Keeping workers, clients, and their property safe and protected.
Preventing the spread of the mold growth.
If mold is discovered growing in your home or business in Willmar, MN, call RestorationMaster at 320-227-3000 for our mold remediation services. We can respond to your emergency mold cleanup needs 24 hours a day.