RestorationMaster, serving Bemidji, MN
For over 50 years, RestorationMaster has been the leading provider of disaster cleaning and restoration services to Bemidji, MN and the surrounding communities. We have several locations throughout the state of Minnesota which allows us to respond quickly to disaster restoration and cleaning needs at any time. Our technicians are highly trained and experienced to handle all restoration and cleaning services for residential and commercial buildings. Contact us immediately after a disaster so we can help mitigate the damage and save you money on insurance claims.
RestorationMaster uses the most advanced cleaning products and state-of-the-art equipment in the industry to provide the highest quality cleaning and restoration services. We also use green cleaning products for a more eco-friendly but equally as effective option.
The main disaster cleaning and restoration services provided by RestorationMaster include storm damage repair, fire damage restoration, mold removal and remediation, and business window cleaning. Our crew has helped with many large fire and water losses in Hennepin County Minnesota and we are the preferred service provider of insurance companies in Bemidji. Homes and businesses in Bemidji, MN can contact us at (888) 915-7197 for disaster restoration and cleaning services 24 hours a day, 7 days a week.
Water damage is a very common occurrence in homes and buildings because it can be caused by weather conditions as well as issues within the building such as pipe bursts, leaks, overflows, and sewage backups.  Storms that include heavy rain and flooding are especially dangerous as they can cause plenty of water to enter your property.  This excess water will spread throughout your property and get absorbed in building materials and furnishings, leading to serious damage.  Water damage also creates conditions that are ideal for mold growth.  RestorationMaster provides water and storm damage repair services to help homes and businesses in Bemidji, MN affected by major storms or flooding.  We are equipped to deal with any level of water damage from leaks to floods and we can repair damage caused by a storm.
Fires are among the worst possible disasters that can happen on your property because they cause immense damage and immediately threaten your safety.  You must quickly evacuate your home or building as soon as a fire starts and ensure that it is put out as quickly as possible.  Once the fire is out, you need to turn your efforts to the restoration because the smoke and soot left behind will only make the damage worse. RestorationMaster provides fire damage restoration services in Bemidji, MN to rebuild homes and businesses after they have been damaged by a fire.  Our technicians will limit the damage caused by soot and smoke, repair structural damage caused by the fire, and remove lingering smoke odors.
Mold is one of the last things you want to find on your property because of its potential to cause damage and serious health effects.  Mold spores already exist naturally in the air and when an area can provide the spores with moisture and a food source, they will form into mold growth.  Once mold appears, it can cause serious damage as it uses the affected surfaces as a food source.  As people are exposed to mold, they have a high risk of experiencing allergic reactions or infections.  At RestorationMaster, we provide mold remediation services in Bemidji, MN to remove mold growth from homes and buildings.  Our technicians will contain the mold growth to the already affected areas and remove it using advanced methods and equipment.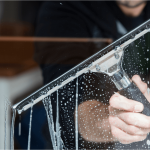 Cleaning the window is an important part of maintaining a commercial building that is sometimes overlooked.  Windows regularly accumulate dirt, pollen, and oils that can block natural light.  Clean windows allow in more sunlight which will improve the look and comfort of your space.  If you need someone to clean the windows of your building in Bemidji, MN, RestorationMaster can help with our business window cleaning services.  Our technicians use highly effective green cleaning products to thoroughly clean your windows.
The way your work environment looks affects the perception people get of your business. That said, a clean workplace will leave staff, guests, and clients with a good impression, but an untidy workspace looks bad for your business. Because of this, you want to make sure your business space remains clean. You also want your workers and customers to have a neat, comfortable environment. It can be difficult, though, to provide this when you have a business to run. RestorationMaster can handle the cleaning through the janitorial services we offer to businesses in Bemidji, MN. Working with you, our technicians will develop a cleaning plan personalized to suit the needs of your business. Then we can conduct scheduled cleanings daily, weekly, or monthly.
---
Related Disaster Cleaning and Restoration Services: