For over 40 years, RestorationMaster has been a proud provider of disaster restoration services for the homes and businesses of Minnetonka, MN, and the southeastern area of Minnesota. In order to limit the damage and restore building materials and items as quickly and effectively as possible, our technicians have undergone long training sessions and have extensive experience in the disaster restoration industry.
Disaster Restoration and Cleaning Services
Our specialists are available 24/7, using advanced equipment and processes to restore damaged homes and buildings. We are also proud to be a RestorationMaster Recovery Management (SRM) center that plays a big role in aiding large losses around the country. As an SRM, we are fully equipped to handle disasters of all sizes, even those that require complete reconstruction.
For immediate disaster restoration services or to schedule your next cleaning service, contact RestorationMaster at (952) 592-1103. We are available 24/7 for emergencies and provide free estimates for our cleaning services.
Due to a large number of sources, water damage can occur in various places throughout homes and buildings, spreading throughout building materials and items. Natural causes like heavy rain and flooding can lead to major damage and manmade causes like pipe bursts, sewage backups, and leaks can spread behind walls and floors, threatening mold growth by the hour. If the water damage does contain any type of biohazards, such as from a sewage backup, it's important to avoid all contact and call us right away. RestorationMaster technicians proudly provide water damage restoration services in Minnetonka, MN and the surrounding areas to fully extract all excess water and dry out the remaining areas. We will also apply anti-microbials to prevent the spread of bacteria.
Fires are among the most dangerous disasters as they consume building materials and items in their path. While the flames can cause severe burning and melting, the damage doesn't stop once they are extinguished. The smoke and soot byproducts emanating from the source of the fire will spread from room to room, covering everything in a thick, black, oily residue. This type of damage is very difficult to remove. Our technicians at RestorationMaster provide full fire damage restoration services in Minnetonka, MN to completely renew damaged building materials and items that were affected by fire and smoke damage. While not all materials can be restored, we will work with you and your insurance provider to determine those that can be restored or replaced. We will also conduct all repairs necessary to completely return your home to its original condition.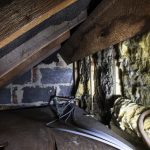 Known to be abundant in dark, moist areas, mold is a fungus that can grow almost anywhere in your home. While it most commonly develops with untreated water damage, it can spread throughout your home or building, slowly eating away at the porous materials. It also brings an array of health problems for you and your family, including coughing, sneezing, watery and itchy eyes, allergies, etc. As soon as you notice a mold problem in your property, don't hesitate to contact us. Our RestorationMaster experts proudly provide mold removal services in Minnetonka, MN and the surrounding areas, identifying and removing the source of the mold while treating the surrounding areas. Using advanced and eco-friendly mold remediation products, we will remove the issue as well as prevent it from returning in the future.
The carpeting and upholstery are often the first things that are noticed when one enters the room for a first time. Because they contribute to its aesthetics, their condition can have a large impact on a guest's first impression. Furnishings that are old, worn-out, or tired looking can make others shy away. Vacuuming can help, but it may not restore a brand-new look. The carpet cleaning services provided by RestorationMaster in Minnetonka, MN can restore a like-new condition to your furnishings. Serving both homes and businesses, our technicians make use of the hot water extraction method, a process that was designed to completely remove all dirt and debris from the fabric and fibers of the furnishings.
When an individual struggles with hoarding, they may be embarrassed about the issue or not realize there is a problem. While many see the problem as just too many things crowding the home, hoarding is classified as a mental disorder that affects millions of Americans today. They suffer from an anxiety towards parting with their belongings, allowing them to build up within the home. To get help, they will need a friend or loved one to reach out to them and to a cleaning service for help. RestorationMaster provides professional hoarding cleanup services in Minnetonka, MN and the surrounding areas to restore clean and safe conditions within the home. We will put them in charge of the cleaning process as we work to remove any biohazards and unwanted belongings, delivering them to the proper destination.
Coming home or back to work after a restoration project can be a relief, but not when you notice a strong odor permeating from the remains of the damage. Musty odors can linger after severe flooding or mold damage while smoke odors may still be sitting in the pores of carpeting and drywall after a fire. In either case, household cleaning products won't be enough to remove them. RestorationMaster provides professional deodorization services in Minnetonka, MN to completely remove odors at their source, ensuring they won't return in the future. Using a range of powerful equipment, you can be sure that all the remains from the damage will be removed to provide you with complete peace of mind.
Not many individuals expect to find biohazard materials or the scene of a violent crime on their property, but it's more common than one might think. While it is surely an overwhelming experience, proper action must be taken right away to protect your safety and prevent permanent damage to your property. RestorationMaster is available 24/7 in Minnetonka, MN to provide biohazard cleanup and crime scene cleaning services, removing blood and bodily tissue from homes and buildings. As soon as we receive your first call, we will be on our way with professional products and equipment to remove all biohazards and restore the environment to its original condition. We also work with compassion and respect to not disturb grieving families.
In the occurrence of natural disasters, building materials are not the only type of property that can be damaged. Furnishings and other belongings, like antiques, jewelry, pictures, and other valuables can suffer severe and even permanent damage if not restored right away. RestorationMaster is available 24/7 in Minnetonka, MN to provide content cleaning and pack out services for homes and buildings. We have years of experience restoring items of all kinds from various types of damage, including water, fire, mold, and more. We can also restore these items at our warehouse, if needed, where they can remain in storage until the restoration process on your home or building is completed.
Keeping a commercial facility clean can be difficult for business owners, especially when you have a business to run. But when the cleaning is handled by a third party, it can be more cost-effective while you enjoy a clean building for yourself, employees, and customers. RestorationMaster provides deep commercial cleaning and janitorial services in Minnetonka, MN and the surrounding areas to maintain a clean working environment. These services can be scheduled as a one-time or ongoing basis. We also ensure to use green cleaning products and equipment to keep everyone safe and healthy at work.
---
Related Disaster Cleaning and Restoration Services:
---
Recent Reviews
---
Review by Patrick Mcmillen
Rating

"I just bought a new house and had some water damage from an ice dam and I called Rick and he was out to my house very quick, he was very professional and easy to deal with. He dealt with my adjuster and all I had to do was pay my deductible"
---
Review by Austin Pipo
Rating

"I had a water damage problem in the middle of the night. Rick responded quick and fix my problem. Would highly recommend to family and friends."
---
Review by Payton Hagen
Rating

"Rick responded in the middle of the night and handled our water damage perfectly."