RestorationMaster
For over 50 years, RestorationMaster has been the top provider of disaster restoration and cleaning services for Brooklyn Park, MN and the surrounding communities. We have locations in several areas throughout Minnesota to respond to cleaning and disaster restoration needs 24 hours a day. Our staff is highly trained with decades of experience that give them the skills necessary to handle any commercial or residential disaster restoration job. We are committed to not only respond to your needs quickly and efficiently, but also resolve any unforeseen problems we may encounter in the process.
At RestorationMaster, we strive to provide the best possible results which is why we use green cleaning products that are effective and environmentally conscious. We also use state-of-the-art equipment to ensure that we are providing our clients with high quality services.
The main services that RestorationMaster offers to Brooklyn Park, MN include water damage restoration, fire damage cleanup, mold remediation, and carpet and upholstery cleaning. We come highly recommended by many local insurance companies and have done several large water and fire damage restoration jobs in Ramsey County Minnesota. If you are in need of our disaster restoration or cleaning services in Brooklyn Park, MN, give us a call at (952) 592-1103. We are available to take your call 24 hours a day, 7 days a week.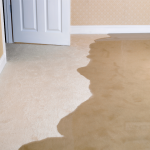 There are so many ways that water damage can occur within a home or building that almost every property deals with it at some point.  Whether the water damage is caused by rain, flooding, leaks, pipe bursts, or overflows, it needs to be addressed immediately before it leads to serious damage or mold growth.  Excess water spreads quickly throughout a property because it gets easily absorbed in porous building materials and furnishings.  At RestorationMaster, we provide water damage restoration services in Brooklyn Park, MN to remove water from homes and commercial buildings and restore the damage.  Our technicians will remove all standing water and ensure that the affected areas are dry with our dehumidification process.
Very few disasters are as dangerous as a fire as they can cause devastating damage to your home or building and put your life in danger.  You should not hesitate to evacuate your home or building if a fire starts and once the fire is put out, the restoration process must begin.  Fires leave behind corrosive byproducts like soot and smoke that will cause further damage that may become permanent without quick cleaning.  RestorationMaster provides fire damage restoration services in Brooklyn Park, MN to help clean up and rebuild homes and businesses after a fire.  Our technicians will repair structural damage, clean up the effects of soot and smoke, and remove smoke odors.
Mold is a frustrating and difficult problem to deal with because it can cause damage to your property, spread to new areas, and trigger negative health effects.  Mold typically appears in moist areas which means that it can start in hidden areas and cause serious damage before you realize it is there.  It is possible for mold colonies to cause structural damage because mold uses organic materials found in the affected surfaces as its food source.  It is very important to have mold removed right away to reduce the risk of serious property damage and negative health effects.  RestorationMaster provides mold remediation services to completely remove mold growth from homes and buildings in Brooklyn Park, MN.  Our technicians are properly trained and equipped to safely remove mold and restore the damaged areas.
The furnishings that have the biggest effect on the appearance of a room or office are the carpeting and furniture upholstery.  People who enter a room or office will notice these furnishings right away and if they are not in good condition, it can make the entire space seem dirty.  Carpeting and furniture upholstery are subject to dirt and debris buildup because they are used on a daily basis.  As the dirt builds up, these materials may start looking dull or stained and they could begin to deteriorate.  At RestorationMaster, we provide professional carpet and upholstery cleaning services for homes and commercial buildings in Brooklyn Park, MN.  The hot water extraction method we use is safe and effective for lifting dirt and stain from all types of carpeting and upholstery fabric.
Hoarding is a complicated mental disorder that causes the behaviors that we commonly associate with hoarding.  Those who are affected are suffering from some form of anxiety or depression that makes it very difficult to part with things that have ended up in their home.  This causes the clutter to build to dangerous levels as it can block areas of the home, increase the risk of fire and injuries, and create conditions for pests and mold growth.  You cannot simply start cleaning the home of a hoarder, the affected individual must agree to clean their home and be involved in the process.  At RestorationMaster, we can help hoarders in Brooklyn Park, MN clean out their homes with our hoarding cleaning services.  Our technicians take a respectful approach to hoarding projects and we always involve the affected individual in every step of the process.
If your workspace is messy, people will look down on your business. You can prevent this by maintaining a clean working environment. Doing so will give people a good impression of your company, but it can be tough to keep your workplace clean when running your business. With our janitorial services in Brooklyn Park, MN, RestorationMaster can help you maintain a clean business. Our technicians work with you to create a customized cleaning plan. Then, we carry out that plan when we conduct our daily, weekly, or monthly scheduled cleanings.
---
Related Disaster Restoration Services:
---
Recent Reviews
---
Review by Patrick Mcmillen
Rating

"I just bought a new house and had some water damage from an ice dam and I called Rick and he was out to my house very quick, he was very professional and easy to deal with. He dealt with my adjuster and all I had to do was pay my deductible"
---
Review by Austin Pipo
Rating

"I had a water damage problem in the middle of the night. Rick responded quick and fix my problem. Would highly recommend to family and friends."
---
Review by Payton Hagen
Rating

"Rick responded in the middle of the night and handled our water damage perfectly."