RestorationMaster
Discovering a crime scene or violent accident on your property can be overwhelming and even traumatic, especially if you were a witness to it. But it's crucial to take action right away by calling the authorities and EMTs to open an investigation. A biohazard cleanup company must also be called to remove the biohazards and bacteria to restore safe and healthy living condition.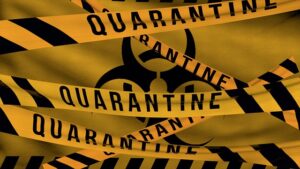 RestorationMaster is available in New Lenox and Mokena, IL to provide biohazard cleanup services for residential and commercial properties that were severely impacted by blood and bodily fluids. Each of our technicians understands the dangers of the situation, which is why we are available 24/7 to respond and start the cleaning process. As soon as we arrive, we will immediately remove all biohazards and use advanced cleaning products to restore safe and healthy conditions on the property. Our technicians are also licensed, trained, and experienced to work efficiently and effectively.
Crime Scene Cleaners
hen a violent crime occurs, biohazards on the property, including blood and bodily tissue, must be removed right away. This is a job that must be left to professional technicians because the area is filled with bacteria, pathogens, and viruses that are quick to spread infection if handled improperly.
It's always important to call the authorities and EMTs as soon as you discover a crime scene, but they are not equipped to clean up the area. As the property owner, it is your responsibility to have the area restored to a safe living condition.
As soon as you call RestorationMaster , we will be on our way, using professional cleaning products and equipment to safely restore the affected area. We also understand that the situation may involve the death of a loved one, so we ensure to work discreetly and efficiently to not disturb grieving families.
Our biohazard cleanup services include each of the following:
Decontamination: All of the biohazards, blood, and bodily tissues are removed from the property using powerful but eco-friendly cleaning products and equipment.
Proper Disposal: The biohazards are taken to an approved medical waste facility for appropriate disposal.
Deodorization: All of the lingering odors from the biohazards are removed using advanced technology.
Frequent Monitoring: We ensure to protect your privacy and work quietly, also arriving in unmarked vehicles during the cleaning process.
Family Assistance and Support: We can provide a list of contact information of local family counselors if needed.
Licensed and Trained Technicians: RestorationMaster always ensures professionalism during biohazard cleanup services. Each of our technicians is licensed, trained, and experienced in professional cleaning services to ensure a safe environment is restored to your property.
Available 24/7
For professional biohazard and crime scene cleaning services, contact RestorationMaster at (630) 576-0336.