RestorationMaster
While the flames of a fire are destructive, the majority of the damage actually occurs after the fire is already out. The smoke and soot created from the combustion of burning contents have the most damaging effect. When quick action is not taken, these byproducts are left to spread throughout the property and cause permanent damage to the remaining surfaces.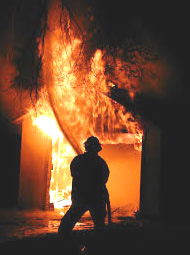 As soon as the fire department has declared the property safe to re-enter, don't hesitate to call for emergency restoration services. RestorationMaster is available in New Lenox and Mokena, IL to provide fire damage restoration services for homes and buildings as soon as the flames are out. Our technicians are available 24/7, responding immediately to your first call to start the restoration process.
Problems with Fire Damage
hen the flames cause the chemical combustion of the building materials and contents in your home or building, smoke and soot will spread throughout the property to cover the remaining surfaces in a thick, oily residue. If not addressed right away, they will cause permanent damage to the walls, flooring, furnishings, ceiling, and contents of your property.
Causing etching and tarnishing, the smoke and soot will compromise the structural integrity of the building materials. But it's not recommended to use household cleaning agents and restore the structure and contents yourself. Doing so can actually worsen the damage, creating the need to replace them later. The products and equipment used by RestorationMaster are designed to remove smoke and soot, allowing us to return a number of household surfaces and contents to their original condition.
Our fire damage restoration services include each of the following:
24/7 availability and emergency response
Emergency pre-cleaning
Drywall and ceiling cleaning
Reconstruction
Content cleaning and pack out services
Deodorization
Insurance claims coordination
Fire Damage Repair – What to Do:
As soon as the fire department has deemed it safe to re-enter, contact RestorationMaster for fire damage restoration
If the outside temperature is over 60 degrees, open all windows and doors to air out the property
Wipe off all porcelain, aluminum, Formica, and chrome surfaces
Discard all food items exposed during the fire
Change the filter on the HVAC system
If the power is off, clean out the refrigerator
Fire Damage Cleanup – What NOT to Do:
Do not touch any surfaces that were damaged by the fire with your bare hands
Do not remove any tacked down carpeting or rugs
Do not turn on the ceiling fan if the area is wet
Do not try to clean any household surfaces other than those mentioned above.
Contact Us
For professional fire damage restoration services in New Lenox and Mokena, IL, contact RestorationMaster at (630) 576-0336.