Trauma disasters such as violent crimes, suicide, death or gross filth require specialized attention to ensure that the area is properly decontaminated and restored.  RestorationMaster provides trauma and biohazard cleaning services to Frederick, MD.  Our trauma staff is trained and certified to perform biohazard waste cleanup, sanitation, decontamination, and deodorization with our specialized equipment and products.
At RestorationMaster , we understand that trauma situations are difficult and we help ease the burden by treating our clients with compassion and respecting their privacy.  Our staff provides an accurate assessment of the damage and we are well equipped to effectively contain, decontaminate, and remove hazardous materials.  The hazardous materials at a trauma site may include bodily fluids or other gross filth that can carry dangerous diseases or infection.  We make sure our staff undergoes continuous training to properly handle and remove these materials.  This specialized training covers:
OSHA Regulations
The spread of airborne and blood-borne pathogens
Use of personal protective equipment
Biohazard and body fluid contaminates
Sanitizing and disinfecting surfaces
Job site training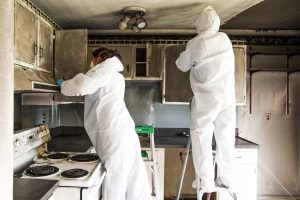 If an unfortunate situation should occur, contact RestorationMaster for trauma and biohazard cleaning services.  Our staff is highly trained and well equipped for cleaning and restoration services for the following trauma situations in Frederick, MD:
Homicide and Violent Crimes Cleanup
Automobile/ Vehicle Blood Cleanup
Suicide Cleanup
Accident and Injury Cleanup
Unattended Death Cleanup
RestorationMaster treats our trauma clients with compassion and respect for their privacy and our services provide some ease in a difficult situation.
Contact us at (301) 381-2304 for a free quote today!