ServiceMaster by Replacements
Hoarding is classified as a mental illness, and helping a hoarder clean out their home is something that should be approached with compassion and respect. Our highly trained team of disaster restoration specialists will treat the hoarding situation delicately and make sure the affected individual feels empowered to clean-up their home.
ServiceMaster by Replacements provides hoarding cleanup services in Eatontown, NJ, and the surrounding areas. The technicians we employ are highly skilled and trained in hoarding cleanup. They will remove all unwanted items from the property and fully clean and disinfect the home to restore safe living conditions.
Hoarding Tendencies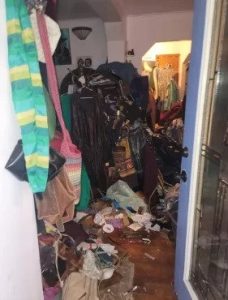 Hoarding disorder is a mental illness in which those affected are experiencing severe anxiety and depression. Individuals suffering from this disorder are unable to part with any of their belongings. Eventually, due to the accumulation of clutter, their home becomes unsafe for living. If you know someone who hoards, you should reach out to them to talk about the dangers of their living situation and the importance of cleaning their home. Once they've agreed to the clean-up, our professionals can be contacted to help.
Hoarding can cause these issues in the home:
Infectious Bacteria: Within the clutter, various types of mold and bacteria can form and cause negative health effects with prolonged exposure.
Tipping Hazards: When a hoarder piles up items too high, they may fall over and cause injury.
Blocked Escape Routes: When there is an excess of items in a home, they can block the entrance and pathways which makes it difficult to move around the home and escape if there is an emergency.
Fire Hazards: When items are piled up, there is an increased risk of fires starting and they will spread very quickly by burning through the cluttered items.
Hoarder Cleanup in Eatontown, NJ
ServiceMaster by Replacements has been offering hoarding cleanup services to residents in Eatontown, NJ, and the surrounding areas for over 30 years.
Our technicians have been trained to approach hoarding cases with empathy and professionalism. It is important to empower these individuals to help with cleanup by having them make the final decision on what is kept, recycled, donated, or thrown out.
We will do the following with our hoarding cleaning services:
Establish Trust with the Individual:We work with the affected individual to build a relationship based on mutual trust and respect.
Create a Plan:We will create a hoarding cleaning plan and make sure that the individual accepts it. Next, the individual will be responsible for making the decisions on which items we will keep, donate, recycle, or throw out.
Follow Up: ServiceMaster by Replacements periodically checks in with the hoarding individuals to ensure that their situation is under control.
ServiceMaster by Replacements can be reached for hoarding cleaning services 24 hours a day, 7 days a week at (732) 844-6232 in Eatontown, NJ, and the surrounding areas.
May 16, 2017
Walter Biel
OCEAN GROVE, NJ
See All Reviews