ServiceMaster Quality Restoration
When a fire occurs, the damage is often severe and extensive because the fire, smoke, and corrosive byproducts each cause different types of damage. However, this will be the furthest thing from your mind if a fire breaks out on your property. The first thing you should do in any fire is evacuate the building and call the fire department to have it extinguished.
Once everyone has been safely evacuated and the fire is out, you must address the damage to your property. If you hesitate to start the fire damage restoration process, the smoke and corrosive byproducts that continue to linger can cause more extensive and even permanent damage. At ServiceMaster Quality Restoration, we provide complete fire and smoke damage restoration and mitigation services to help clean up and repair affected homes and businesses in Charlotte, NC.
Fire and Smoke Damage Restoration Services – Watch Our Video:
For emergency fire damage restoration services in the Charlotte, NC area, contact ServiceMaster Quality Restoration at (704) 603-6223.
Damages Caused by Fires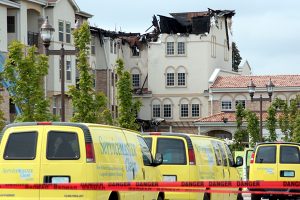 The damage caused by the flames is always immediate and the most obvious. While putting out the fire will stop the flames from causing more damage, it will not stop other elements of the fire from continuing to spread and cause damage to your property. The heat from the fire creates corrosive byproducts when it burns synthetic materials, and these byproducts, along with soot and smoke, can cause considerable damage to various objects, furnishings, and building materials. It's important to clean and restore objects and materials affected by soot and corrosive byproducts right away, or the damage can become permanent.
Our technicians at ServiceMaster Quality Restoration in Charlotte, NC can effectively stabilize serious structural damage from the fire and clean up damage from soot and smoke. We use highly effective chemical cleaners that will remove soot damage from a range of materials and fabrics before they become permanently damaged.
Our complete fire and smoke damage restoration services consist of these steps:
Emergency pre-cleaning
Wall and ceiling cleaning
Smoke Odor Removal
One of the problems that may linger after a fire is the odor from the smoke. These are very pervasive as they can spread to all areas of the home
or building and become absorbed in various materials. This makes it extremely difficult to rid your Charlotte, NC property of the odor. But we at ServiceMaster Quality Restoration use specialized deodorization processes to fully remove smoke odors from the affected materials and air spaces. The time it takes for the complete smoke damage restoration process, which includes removing the odors, depends on the severity of the problem. But it is worth the wait to ensure that your home or building is odor-free.
If your home or property has been damaged by a fire in the Charlotte, NC area, make sure to contact ServiceMaster Quality Restoration as soon as the fire department allows. Our technicians will immediately stabilize serious damage and begin the pre-cleaning process to help prevent the secondary damage caused by smoke and soot from getting worse.
Emergency Response
You can reach us 24 hours a day at (704) 603-6223 for emergency fire and smoke damage restoration in Charlotte, NC. 
---
Related Fire Damage Restoration and Mitigation Services
Fire Restoration in Huntersville, NC
---
Recent Reviews
September 16, 2019
Service Master responded extremely quickly when we had a devastating water leak which caused a deluge of water to erupt from the ceiling between the first and second floor and caused immense damage to the flooring and furniture throughout the house. Service Maser were there within an hour and immediately commenced removing all the water and getting dryers and dehumidifiers into the house to dry it out. Where the drywall was soaked it was removed and the house tested to ensure no contaminants remained. We are very grateful to Service Master for their quick response to our call for help.