A mold infestation is a scary problem to have because it can seriously threaten the health of everyone within the home or building and cause extensive property damage.  It can also grow anywhere in a home or building that provides it with a moisture and organic food source, even spreading quickly until treatment is made.
The damage it causes to the affected surfaces will slowly get worse, resulting in permanent damage and even structural issues.  Any amount of mold on your property must be dealt with immediately to prevent serious damage and reduce health risks.  At ServiceMaster Quality Restoration, our professionals can provide complete mold cleanup services to thoroughly remove mold growth from homes and commercial buildings in Charlotte, NC.
Mold Damage Cleanup – Check Out this Video
For professional mold remediation in the Charlotte, NC area, contact  ServiceMaster Quality Restoration at (704) 603-6223.
Problems with Mold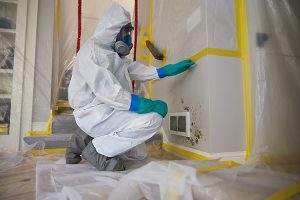 Mold growth can occur in a home or building at literally any time because it is a naturally-present substance.  Mold colonies typically form inside if there has been an increase in moisture, either due to humid conditions, or water damage because it needs a moisture source to form.  Organic materials like wood and drywall provide mold with a food source, which is why it can cause incredible damage to the affected surfaces.  They may experience discoloration and if the mold devours enough of the surface, it can lead to permanent destruction.
The other major issue with mold is the effect it can have on the indoor air quality.  Mold colonies emit musty odors and its spores which spread through the air to new areas of the Charlotte, NC home or building.  Exposure to the airborne mold spores is what causes many of the allergic reactions related to mold growth.  If the exposure occurs over a prolonged period, those exposed may experience more serious issues like respiratory infections.  But reacting quickly to can limit the damage and lower the risk of adverse health effects.
Professional Mold Damage Restoration
Our technicians at ServiceMaster Quality Restoration have the training and experience to deal with any level of mold growth in homes and commercial buildings in Charlotte, NC.  We will immediately contain and assess the mold growth and create a remediation plan that follows the proper protocols.  We use the latest remediation and drying methods of the industry to ensure that we remove the mold and the moisture that caused its growth.  Once the mold is removed, we will either repair or replace the affected materials, depending on the severity of the damage.
Mold is a serious issue that requires immediate attention, even if the problem doesn't seem severe.  Make sure to contact ServiceMaster Quality Restoration for professional mold remediation if you find mold in your home or business in the Charlotte, NC area.
Get a Free Estimate
You can reach us at (704) 603-6223 to learn more about our mold remediation services or schedule your appointment.
---
Related Mold Removal Services
Mold Remediation Company in Huntersville, NC